December 2011!
Far behind!
Since I am WAY late with updating I'll try to get back on track today. I am writing this 2012-03-02, so as you can understand it's not so easy to recall everything that happened back in december, but the photos will jog my memory so I'll do the best I can!
First of all, Zodd lost 9 kilos this winter (19,8 lbs) because of his annual winter depression. I find no better way to describe it than just that - a winter depression.
Every fall when the TM ladies all over the planet goes into heat Zodd will stop eating. It's like clockwork. Never fails. He gets a bit lazy but other than that he's just the same as the rest of the year, with one big exception! He is insanely interested in everything involving girls. I bet he's got that old Mötley Crue song spinning around in his head - GIRLS, GIRLS, GIRLS!

One huge thing happened this month, even if it did come in a tiny size. The day before New Year's Eve Zodd, Lucas and I jumped in the car and drove 460 kilometers (around six hours) to pick up a new addition to our family and then we drove back home (460 more kilometers and another six hours).
So, who is this new member of our family that made us spend so much time in the car?
His name is Chibi. For anyone familiar with anime and manga I need say no more but for those of you who's got nothing to do with japanese comics I'll explain his name a little better.
Chibi means something along the terms of "small and cute" and that is exactly what our new puppy is! He is very small and extremely cute!
First we thought that the name Zyko would be good, but decided against it because we really didn't want him to actually live up to that name (Psycho), so Chibi got all the votes in the end.
And I must say he is Chibi by now. What a character! He's so much fun and even though Zodd was a bit reluctant and extremely careful at first he's now very attached to his baby brother!
Chibi may look like an Australian Shepherd puppy but he is no such thing. He is half Tibetan (of course) and half German. That means his mother is a cross between Tibetan Spaniel and Lhasa Apso and his daddy is a Pomeranian of the rare color red merle. They were four in the litter and Chibi was the only boy, all four were red merle and beautiful!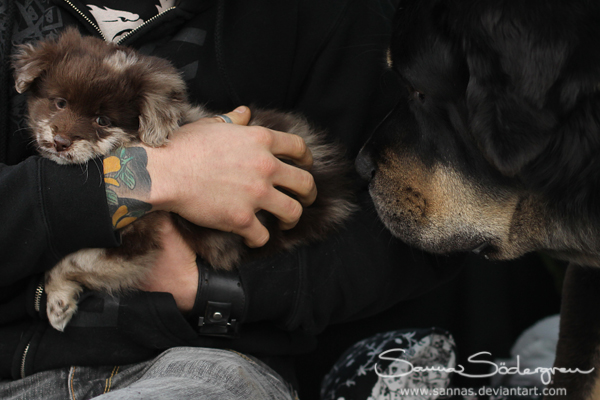 Here's one of the first photos of my boys. Zodd is curious. What is that tiny thing in Lucas arms?!

There will be PLENTY of photos of Zodd and Chibi in the upcoming months, I'm sure :)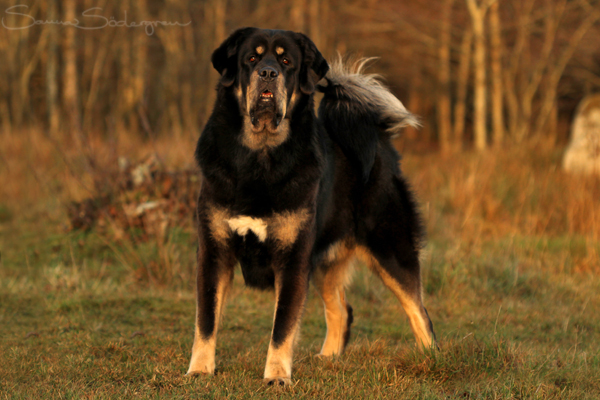 Zodd!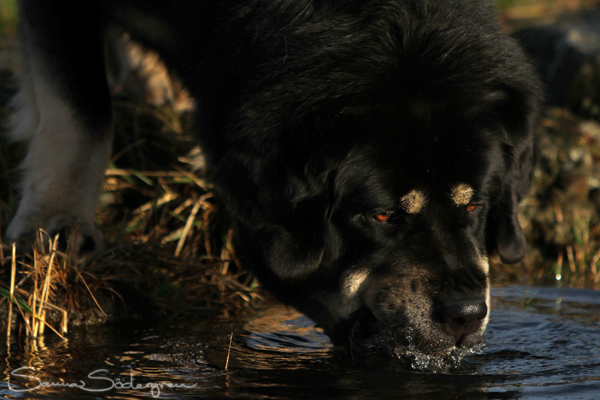 A drink of water during our walk.
Tattoo!
Zodd and I went with Lucas to his tattoo artist one day and Zodd got a bit of studiotime too, but no tattoo ;)
But he did stand model for a tattoo now worn by one of our TM friends in UK! You can see it here ---> Almost Famous!

Zodd at the tattoo artist!
| | |
| --- | --- |
| | |
Stockholm, there and back again!
Yup, one more loooooong trip this month, this time in the company of my dear friends Veronica and Frida, and the always lovely girl Noblesse, the Dogue de Bordeaux! She's Zodd's girlfriend and have been for a few years now. Zodd wants to take things one step further every winter, but Noblesse is not interested, at least not when she's not in heat ;) And when she is in heat Zodd is kept 60 kilometers from her house. I'm sure they would find a way to produce some squishy puppies if they ever got close during Noblesse's winter heat...
They can hang out just fine during her summer heat because that time of year Zodd is oblivious to all things girlie. That's instinct for you!
So, the reason for our trip was to visit the CACIB show in Stockholm. This year the show was also host for the huge NORDIC WINNER title. We didn't do very well, neither of us. Noblesse did get EXCELLENT and a CK (CAC-quality) but Zodd got a plain EXCELLENT and was placed as fourth best championmale.
You can read more about our adventures here ---> Dogshows!
A huge thanks goes to Frida's boyfriend Brice who handled the camera while I was in the ring strutting Zodd's stuff! I got some mighty nice photos thanks to him! Thank you so much Brice :)
Here are some photos from our days in Stockholm. Lucas was away working... I missed him...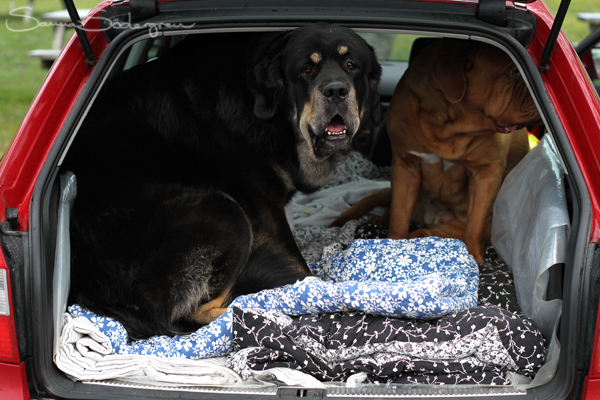 "Mum, we're gonna need a bigger car..."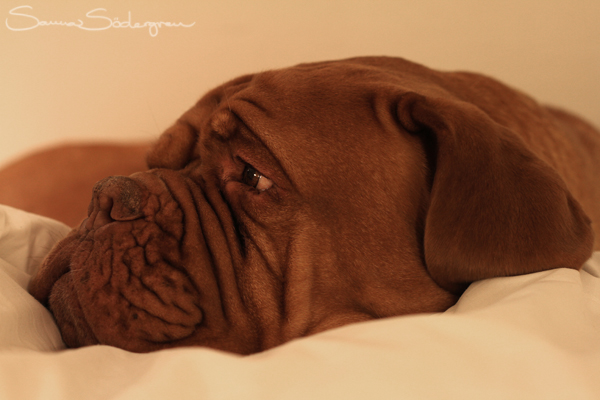 Noblesse in the hotel room.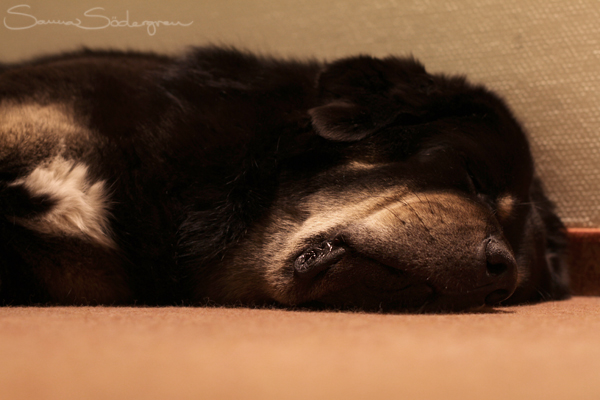 Zodd in the hotel room, exhausted after a whole day in the car, where he slept most of the time... Go figure ;)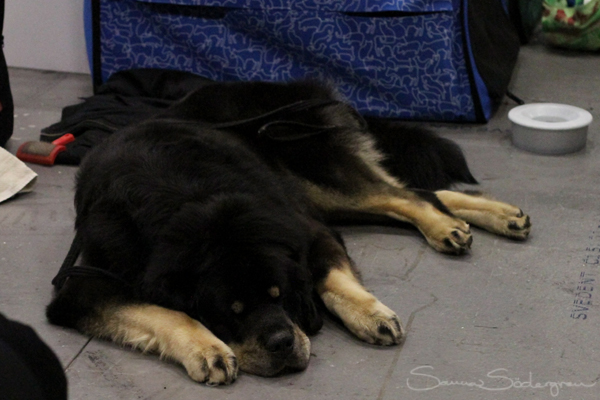 Zodd snoring away at the dogshow grounds.
| | |
| --- | --- |
| | |
| Bod Khyi Dom Otso | Lafahhs Varada |
| | |
| --- | --- |
| | |
| | |
| | |
| --- | --- |
| | |
| Fu-Hsing Sundari (that's me and Zodd)! | Fu-Hsing Sundari (me and Zodd again)! |
| | |
| --- | --- |
| | |
| Chilcoot Fighter up front and Zodd behind him. | Bod Khyi Dom Otso "Rizzo" |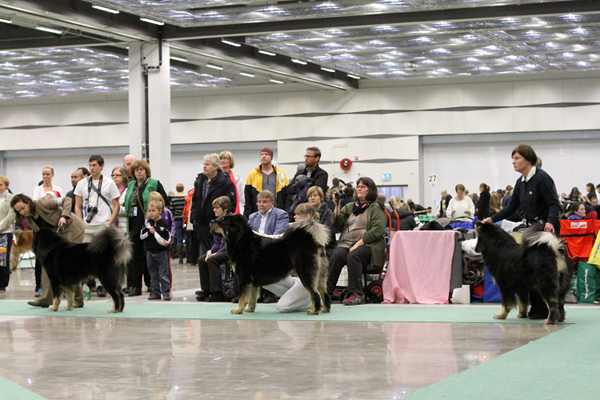 Zodd in the middle... He's a big boy.
The Sundari babies!
YAY! We got a visit from Catarina and Ganzi Sundari! We had a wonderful time even though the weather did everything it possibly could to stop us from enjoying the day. But since we both have TMs we've learned to be almost as unaffected by rain and wind as they are... Haha, in our dreams at least ;)
But as I said, we didn't care and went to the beach, set the boys free and watched them play, chill and do other TM stuff. Nina came along too. There's not a chance she would miss out on a visit from another TM.
Ganzi was as gorgeous as ever! And he was all love when he saw Zodd. He made himself into a puppy and begged Zodd to love him.
Catarina said that there's no other dog he behaves that way with. I suppose he looks up to Zodd :)
And Zodd was overcome by joy that Ganzi had come for a visit!
It's amazing how much these two boys like eachother even though they haven't seen eachother in... is it a year??
Here are some photos from their man-date! It's not great quality since the weather was bad and the light was lousy, but it's a shame not to share anyway :)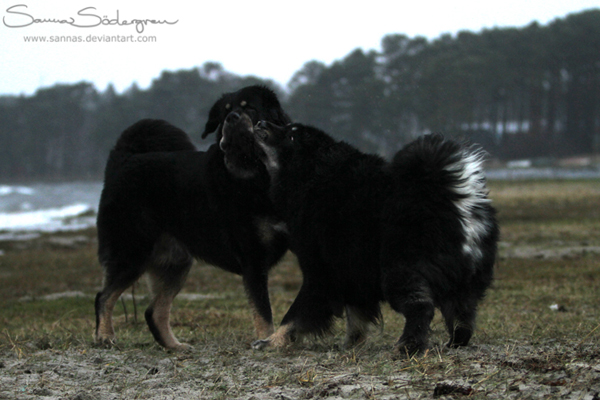 Let's dance!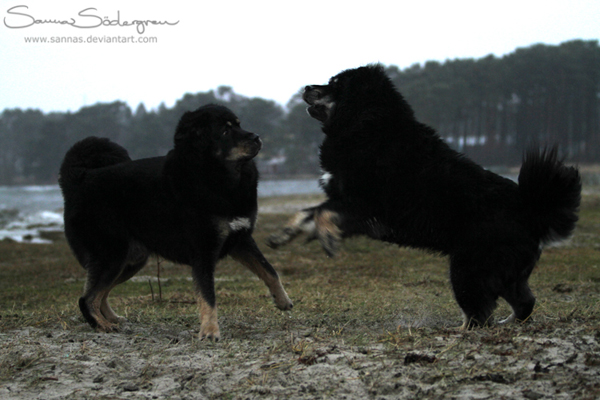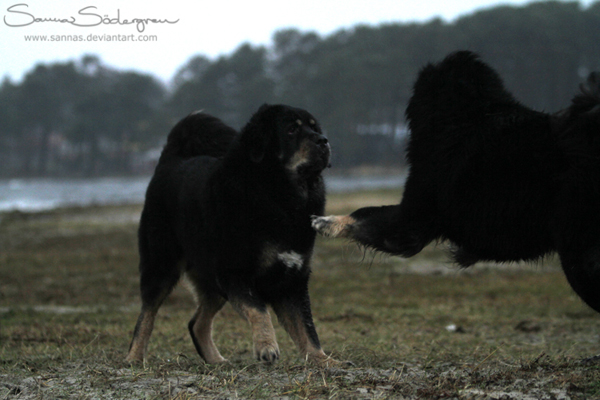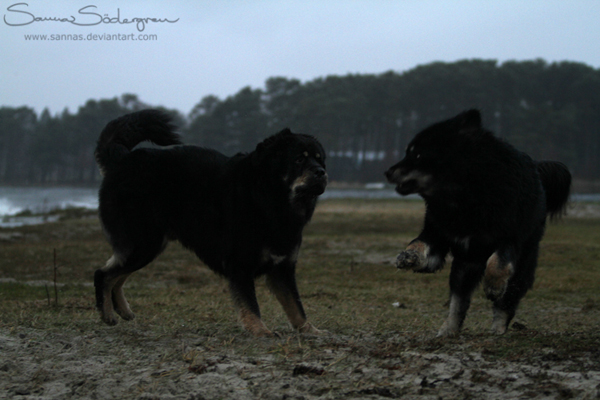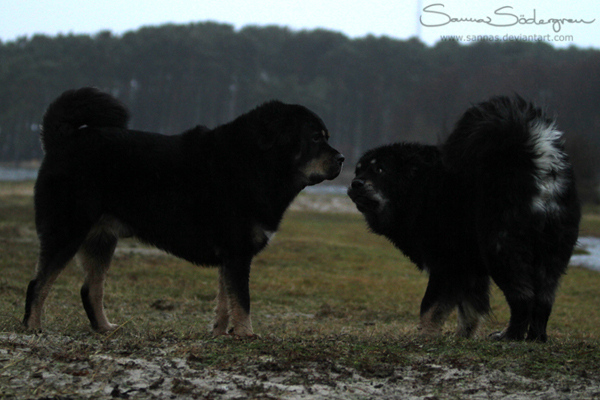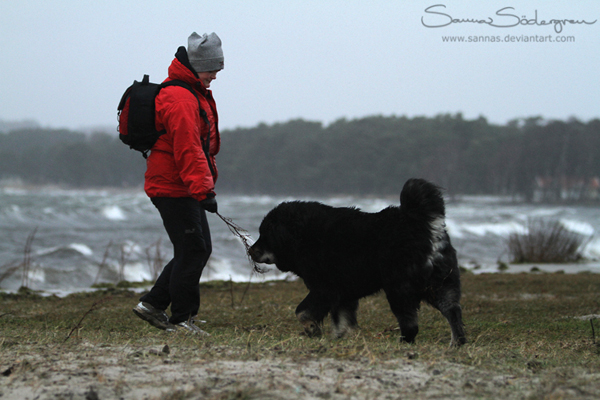 Catarina and her great love Ganzi!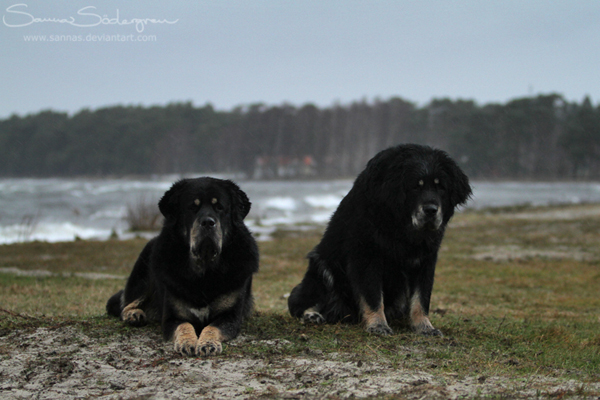 Zodd: "Sorry bro, she's like that when she's got a camera in her hands..."
Ganzi: "Is there even a face behind that camera-thingy?!"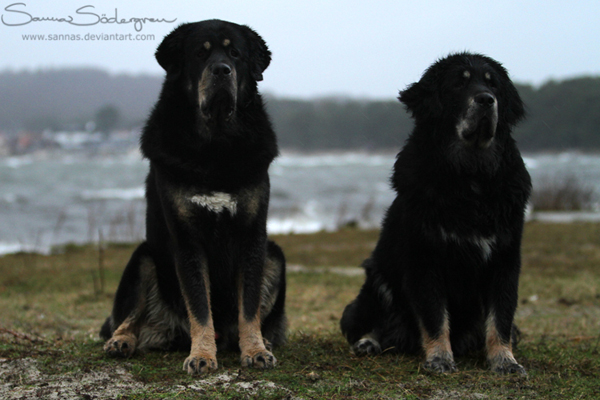 Zodd: "If you just follow my lead she'll be pleased in no time and we'll get back to what matters in life!"
Ganzi: "Roger that! Playtime can't come soon enough!"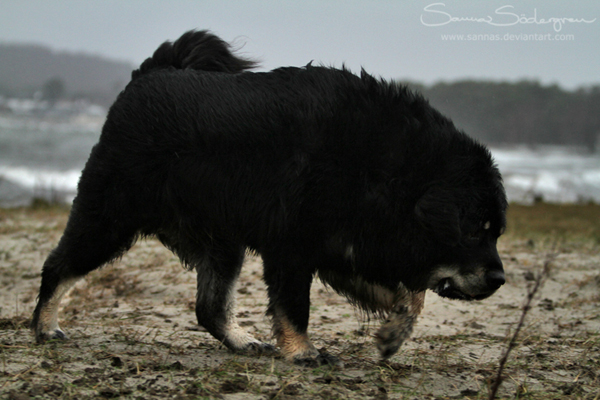 Ganzi is one impressive Tibetan Mastiff!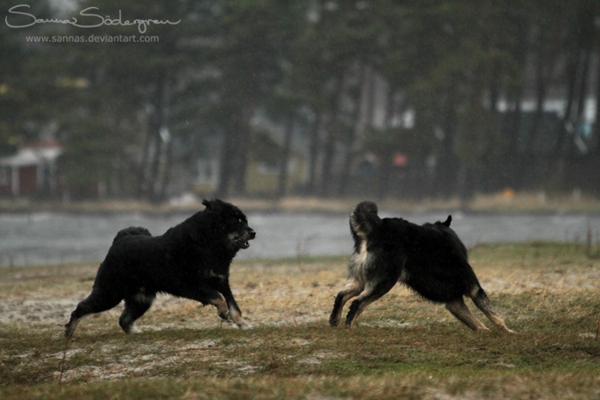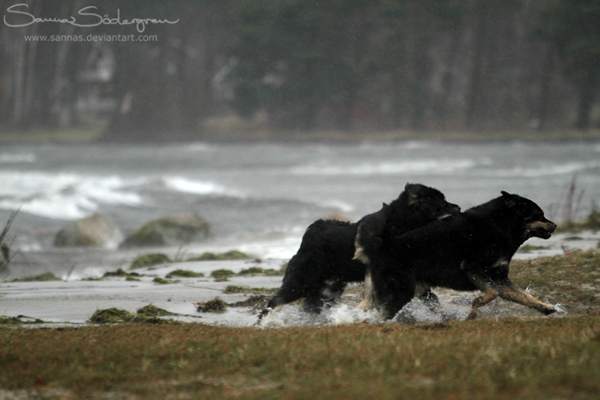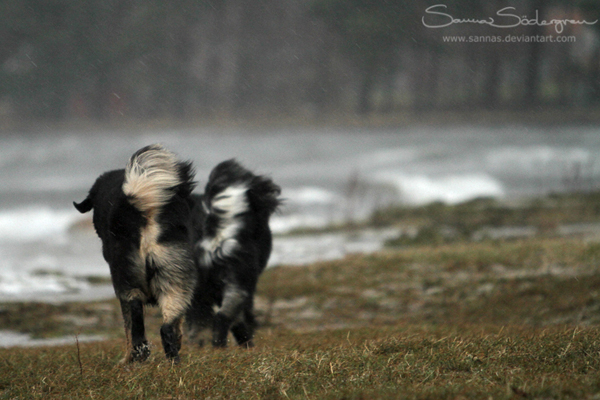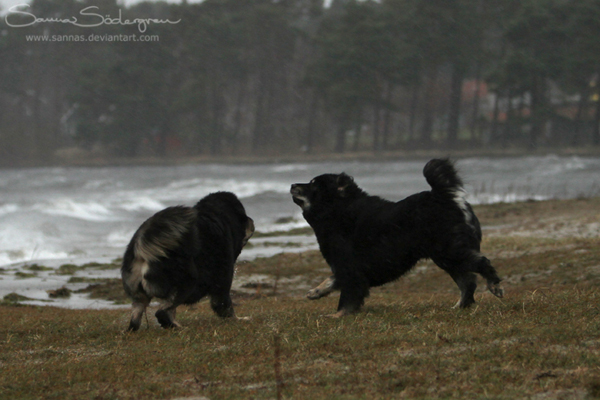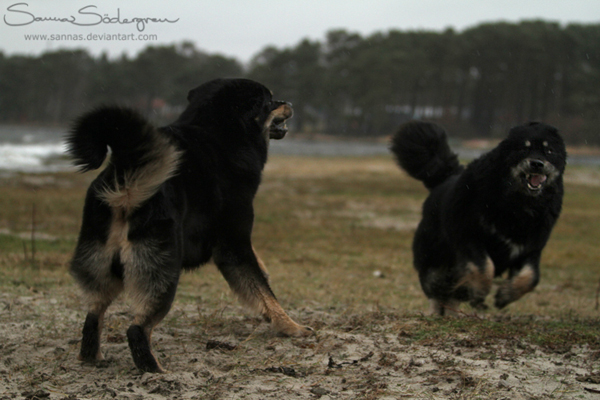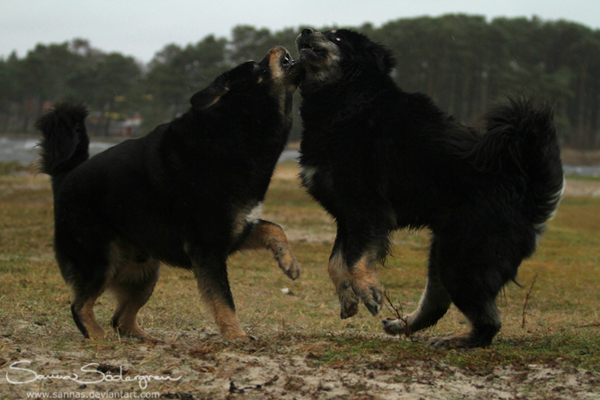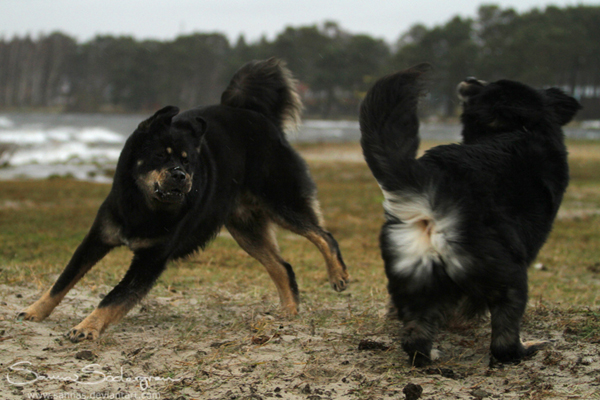 Tibetan TANGO!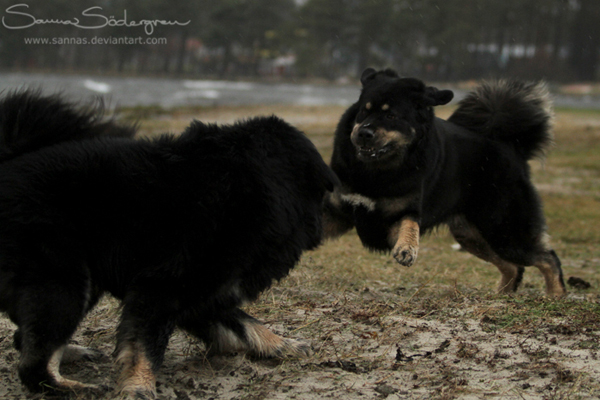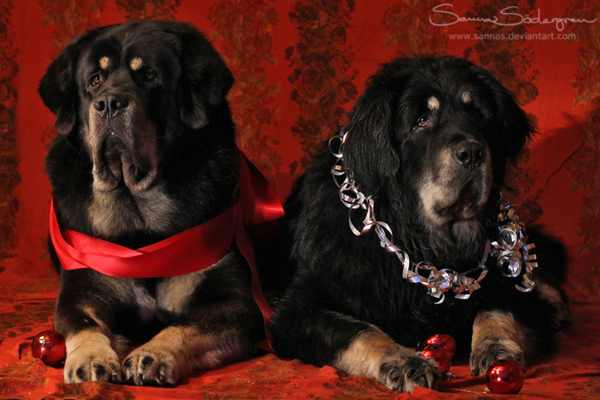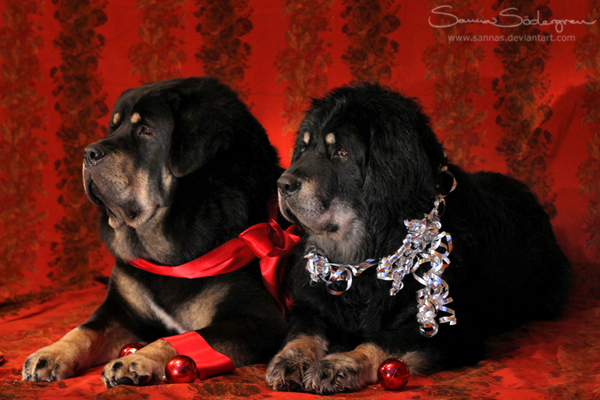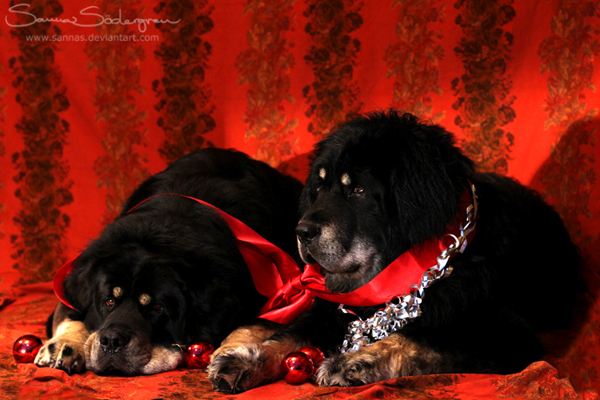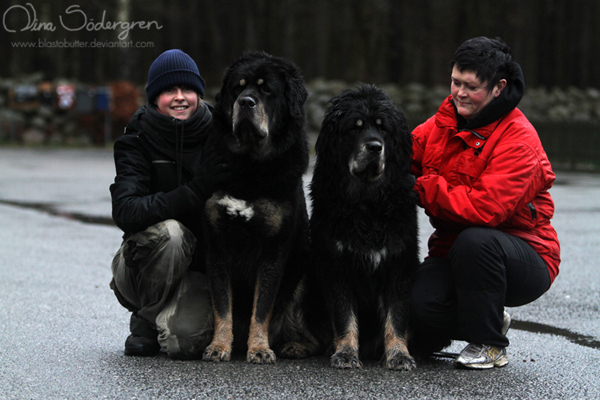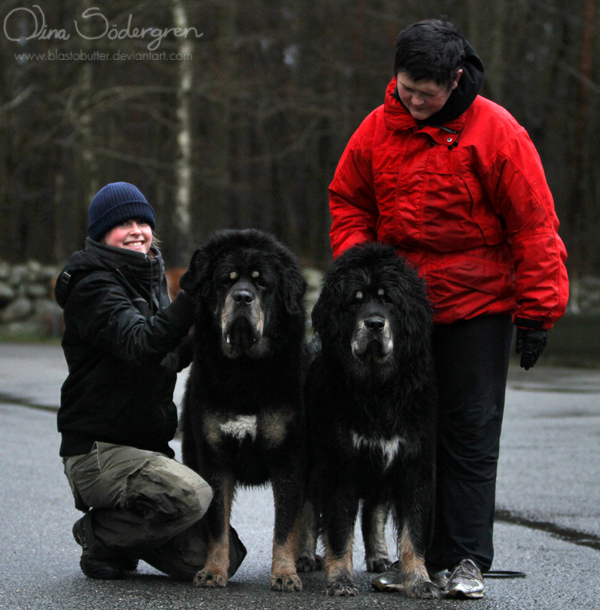 The only two Sundari Tibetan Mastiffs in Sweden, and their very proud owners!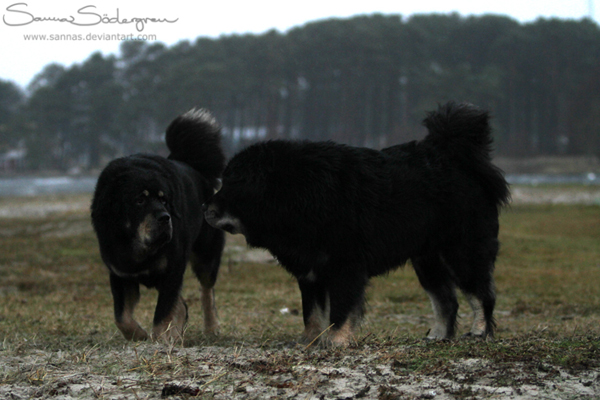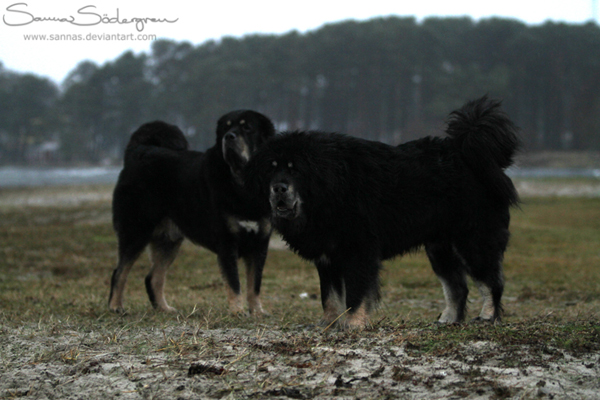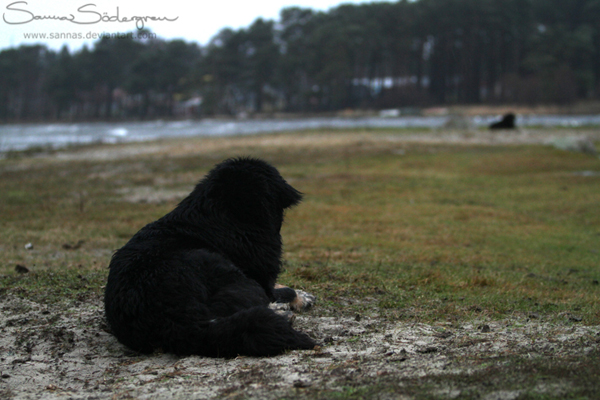 Ganzi in the front and Zodd is the black dot in the back... Chillin' Tibetan Mastiff style ;)
Christmas!
And here are the annual Christmas photos! This year I set up a small studio and took a bunch of photos. I'm very pleased with them! Enjoy!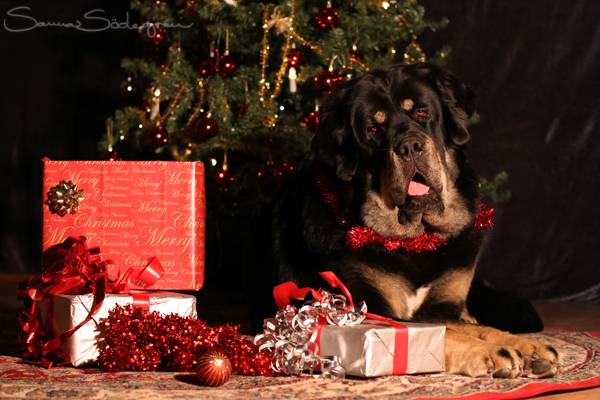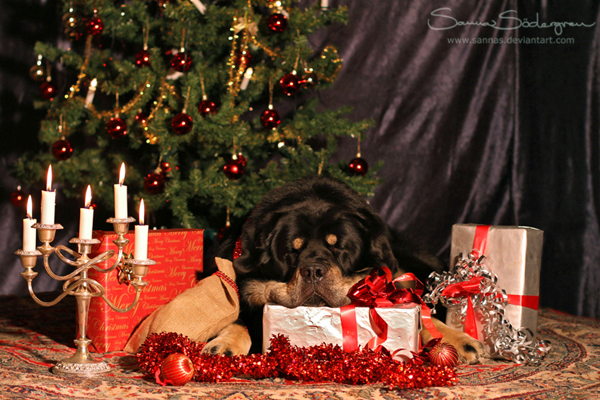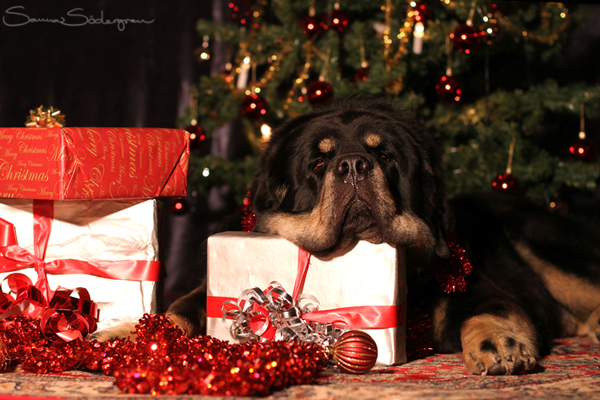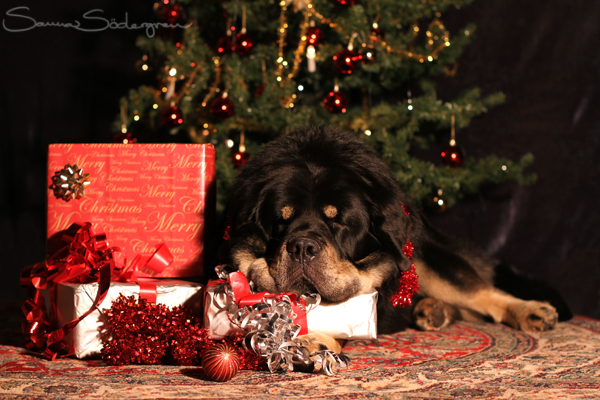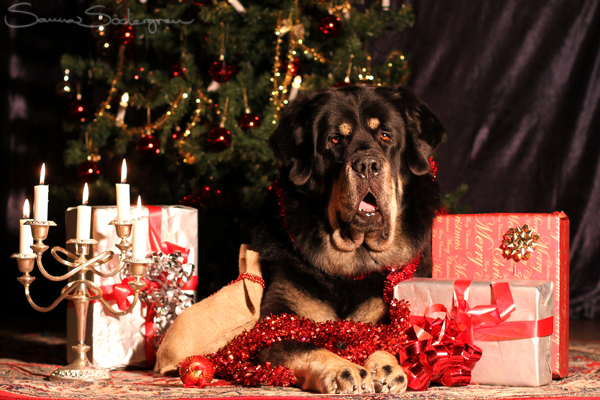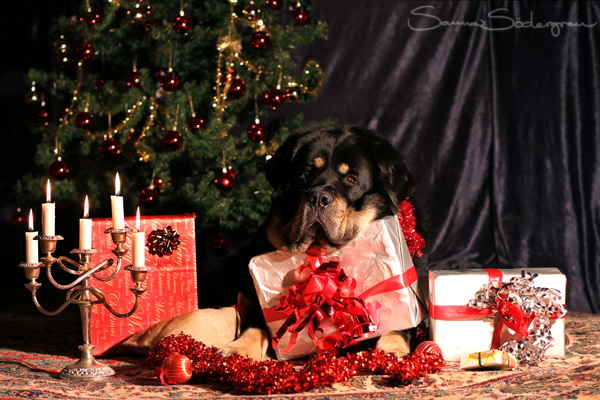 And last, but not least!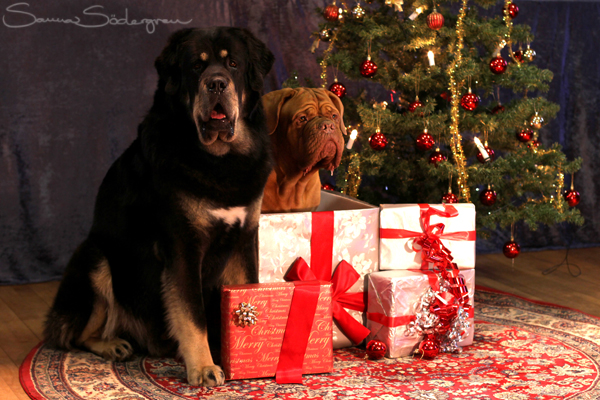 Zodd got what he wanted for Christmas - Noblesse! ;)
But then the photoshoot was over and Noblesse left... Darn it!
Maybe next year?