July 2011!
A lot of stuff!
So, the month of july passed us by in a rush. We've spent some time at the beach, a lot of time in the forest and a huge amount of time in our garden. No blogging this month, simply a bunch of photos and some stories!
Hm, when I think about it that could probably be the very definition of blogging ;)

~I went with Lucas to Norway in the beginning of july, but we had to leave Zodd at home with my sister and my parents. Lucas was working in the outskirts of Svarstad, a wonderful place with grand nature. But having been to Norway a few times by now I've learned that grand nature is part of that country.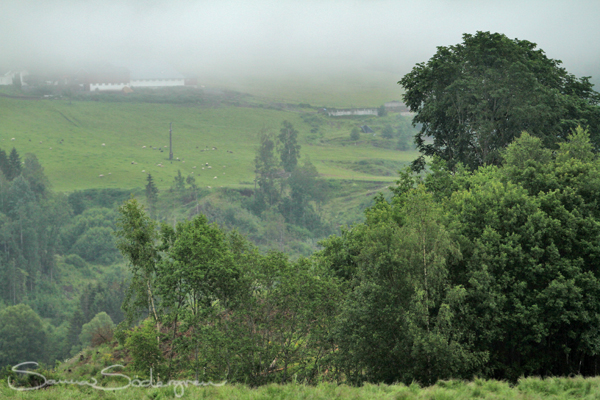 The view from Lucas workplace.
Since I had left Zodd at home I soon began to feel itchy without my usual chance of TM cuddles, so I phoned Kari at
kennel Kyi-M-Byang
. I had recently learned that she had imported a gold girl from
kennel Lions du Nam-Tso
in France. I was very curious because the puppy's father is the one and only Czenrezi Sundari, also known as Zen, and Zodd's maternal halfbrother. Well, even without that relationship I would have loved to go visit, simply for the chance to hug and kiss a TM puppy ;)
Kari was very happy to hear from me and she opened her doors and invited me and Lucas to come visit.
There's one thing I'm starting to learn about TM people - they love peace and quiet and a home off the beaten track. Kari's home is idyllic, with a big fenced yard for her two TMs, her daughter's working Kelpie and her sweet Tibetan Terrier girls. It is a dream for any Tibetan Mastiff!
It was wonderful to chat away a few hours and even more wonderful to meet Inka, the new addition to Kari's sweet pack.
She was the most loving girl, with sweet eyes and a perfect expression. I fell head over heels (not hard to do for a TM puppy) as did Lucas.
The other TM in the family is born in Sweden and goes by the fancy name Bod Khyi Dom Ransi, Ransi for short, and she was more than welcoming. A lovely character and sweet manners. I felt right at home!
So Kari, thank you so much for introducing us to your pack and to your fabulous new additon from France, Inka the stunning gold TM puppy girl!
Who would not fall in love with this sweet face?

Gser Inka Des Lions du Nam-Tso "Inka"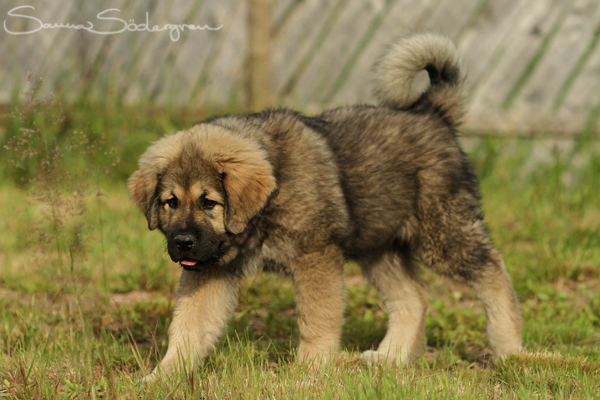 Gser Inka Des Lions du Nam-Tso "Inka"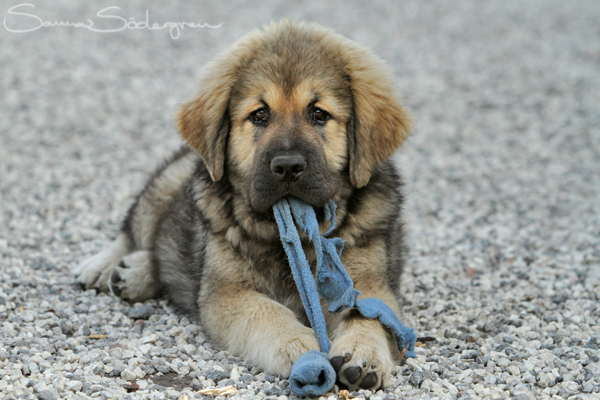 Gser Inka Des Lions du Nam-Tso "Inka"
Bod Khyi Dom Ransi "Ransi"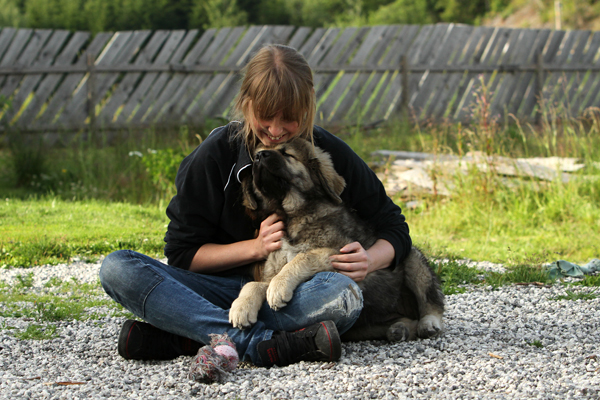 Inka gives a great cuddle!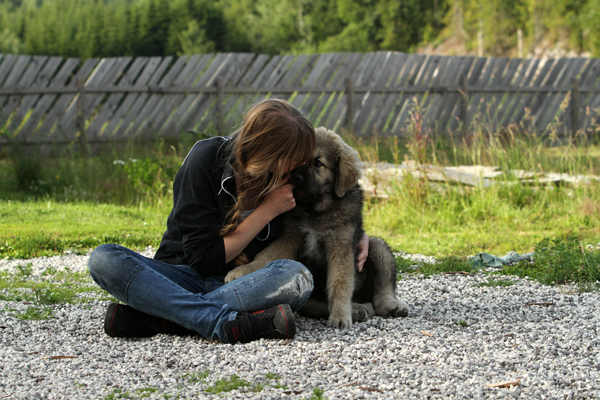 I love Tibetan Mastiffs! They are the best!
~Zodd likes water, no doubt about it. But he doesn't enjoy swimming. I suspect he likes to have all his paws on the ground, so when he's in the water he prefers not to go too far out.
One thing he does like is coming with us to the beach. He loves to keep an eye on everything around him, like any Tibetan Mastiff would. So he is a constant companion when we go to the sea, even if he just splashes in the shallows and relax in the sand or on the cliffs. Good thing for Zodd is that Lucas is not too fond of swimming either, so the two boys keep eachother company while I enjoy the cool waves.
The guardian snout of Zodd!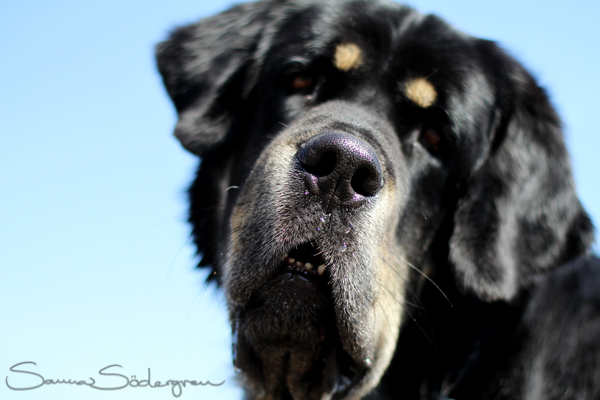 Sweet Zodd with his most curious look :)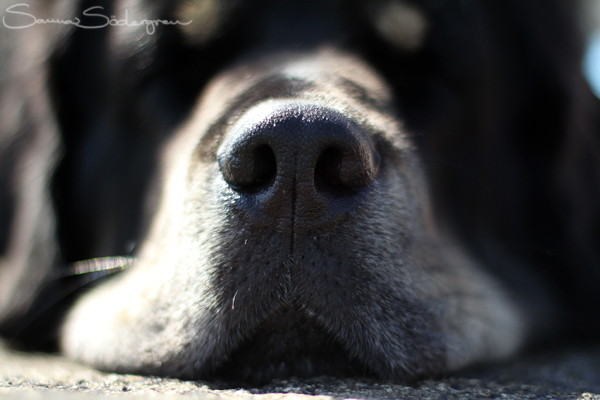 Zodd relaxing on the cliffs by the sea after a splash in the waves.
~Zodd is the king of his garden!
He is the protector of the flowers and the trees, and he's willing to tell anyone who dare come close! With his deep bark he informs everyone of his presence, and it's very hard to ignore 70 kilos of black, furry protector.
I had the camera ready when the lilys were in full bloom and I got some nice photos of Zodd performing his garden duty.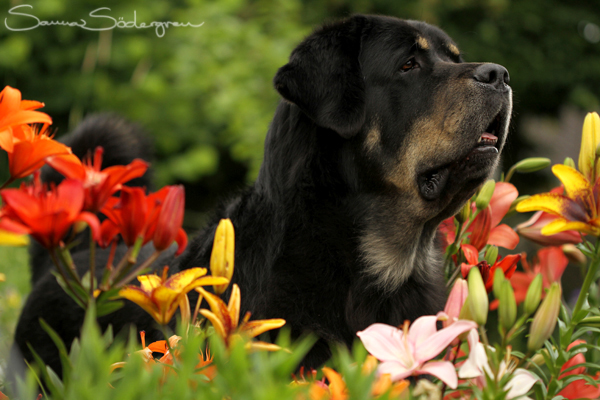 Zodd, guardian of the flower realm!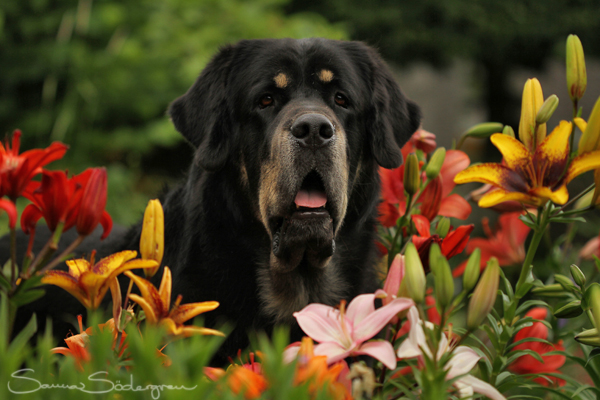 "Hm? Did anything move over there?"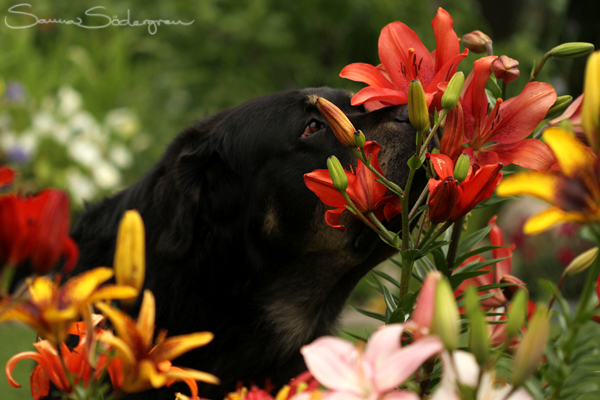 Sometimes you need to stop and smell the flowers...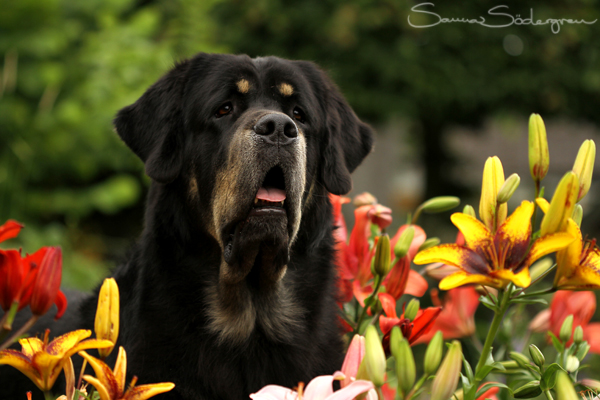 But then there are moments where you need all your attention on other things.
Like when people or dogs come too close to your precious flowers!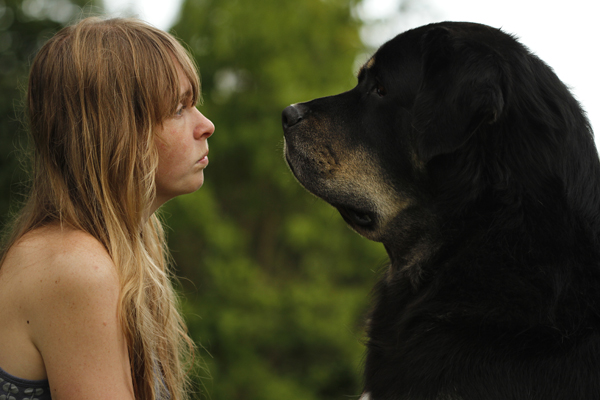 Sanna: "Zodd, you were a good boy, protecting the garden today, but just so you know, the people you barked at weren't out to get your flowers."
Zodd: "What? Why do you say that? If I hadn't barked they would SO have come over to smell them. And that smell, on those flowers, are for family and friends only!"
Sanna: "And what makes you say think that they were not potential friends? Maybe they were..."
Zodd: "What do you mean, Sanna? They were on the other side of the fence. That makes them strangers!"
Sanna: *sigh* "You reason like a Tibetan Mastiff!"
Zodd: *glare* "Perhaps because I AM a TIBETAN MASTIFF!"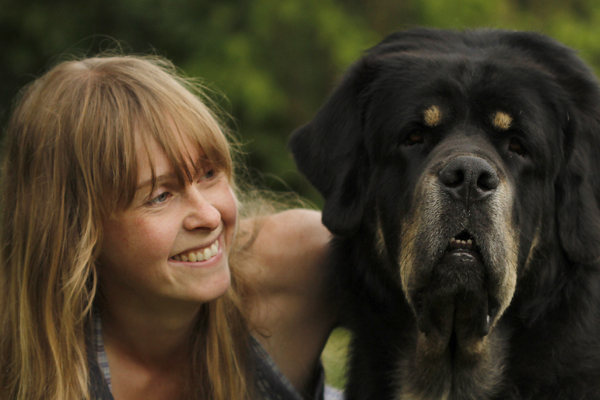 LOVE
~I am a big fan of photography (if anyone of you following Zodd's adventures hadn't figured that out by now ;) and this summer there have been loads and loads of butterflies. And I've been there, stalking them with my camera and my macro lens, and Zodd have been with me, like my mascot and shadow and friend.
He's a big fan of walks, and he's a huge fan of walks were I bring my camera and aim it at something other than him, haha ;)
He likes the fact that I stop for a while because then he finds the good spot (every place has a good spot, ask any Tibetan Mastiff) and lays down, guarding quietly and enjoying the shadow. He's great at finding shadow on warm and sunny days and he's the best at finding the good spot.
So while I'm hunting for a good shot he's kickin' back, relaxing and enjoying the fact that he gets to perform that age-old task of keeping a lookout. That ability and longing runs in the blood of every true Tibetan Mastiff. The best thing is if he can find a higher point where he has a good view over the area. If that's not possible he will pick a place were he can see all paths leading to where we are. He is very mellow and laid back when we are in the forest, but there is not a doubt in my mind that he takes his task seriously and that he is 100% focused on it.
Zodd is almost always off lead when we go on these expeditions and whenever I stop to look at something interesting, or stop to take a few photos, he walkes a few steps, looks over his shoulder and waits. If I don't come fast enough he finds the good spot and sits down. If I'm still absorbed by whatever I'm looking at through my lens he will lay down, cross his paws and wait. Wait while keeping an eye on the surroundings that is.
This is not something you ever have to teach a Tibetan Mastiff.
It's simply who they are.
It's part of their essense.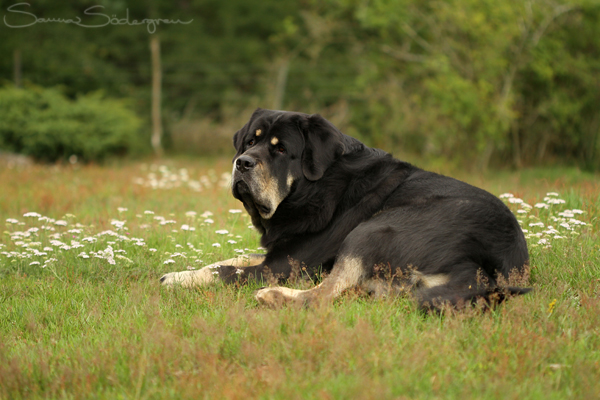 Waiting...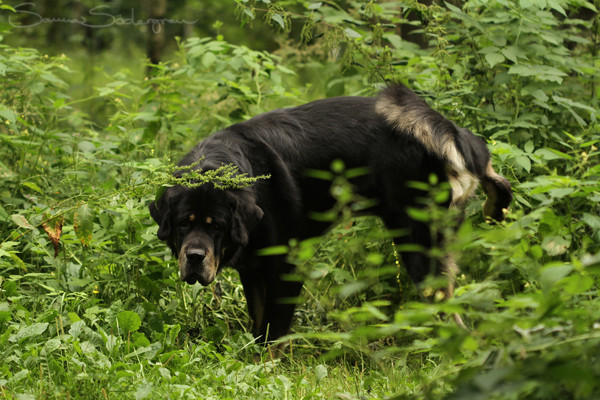 Taking care of business, while waiting...
Chewing a stick and looking handsome, while waiting...
Some of my "finds" during one of our expeditions into the wild ;)
~And, as a round up of this month, some photos of Zodd and red currant berries. I hope all of you had a great july! We certainly had!