June 2011!
24/6-2011
A midsummer dream!
Noblesse, the Dogue de Bordeaux, decided to ditch her peeps and join Zodd, Lucas and me for midsummer. We welcomed her with open arms and I think that if she had to sum the weekend up with one word it would be FUN!
Zodd was so surprised when she showed up, I hadn't told him about it, and when Noblesse had said her goodbyes to her peeps she fell into the rough molosser games that is in her blood. And in Zodd's blood for that matter.
They are definitely a good match!
Zodd wore his midsummer wreath and Noblesse got to try it on as well.

Zodd thought it was great fun to have Noblesse in his home, but after one day he started sulking a bit. He wasn't angry or upset, just very low, and he seemed to want her to go home again. I'm not sure why, but I suppose he is used to being the only spoiled kid in our home ;)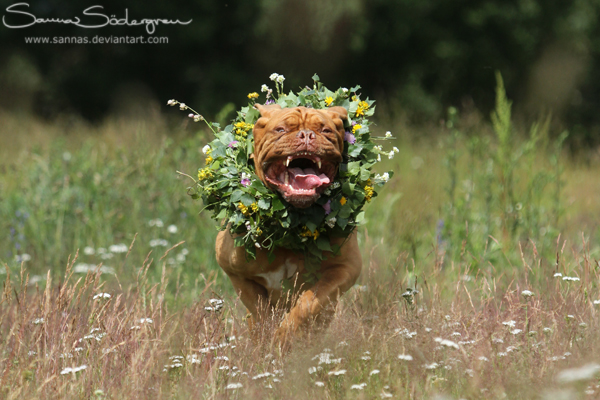 Queen of happiness!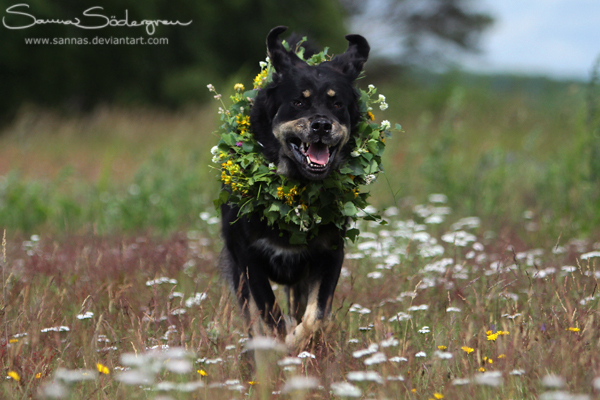 Scary king of happiness!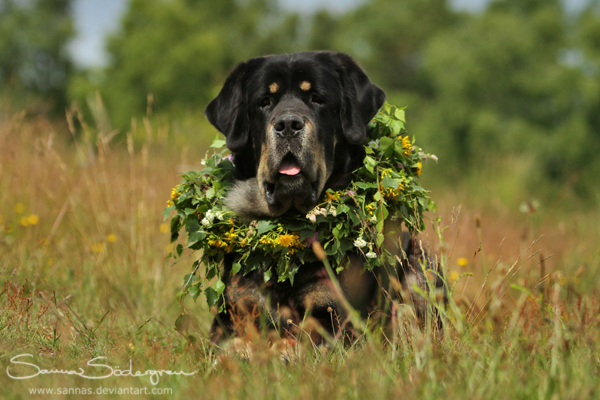 Zodd understands so much so it's never hard to get him to listen and look at me while I crawl around on the ground with my camera. Either it's that or he is simply amused by my idiotic behaviour ;)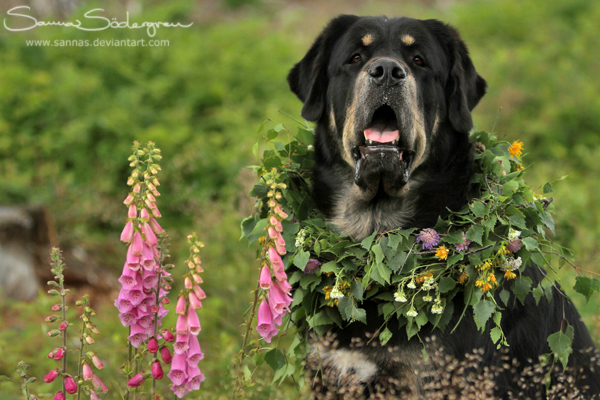 Midsummer Zodd!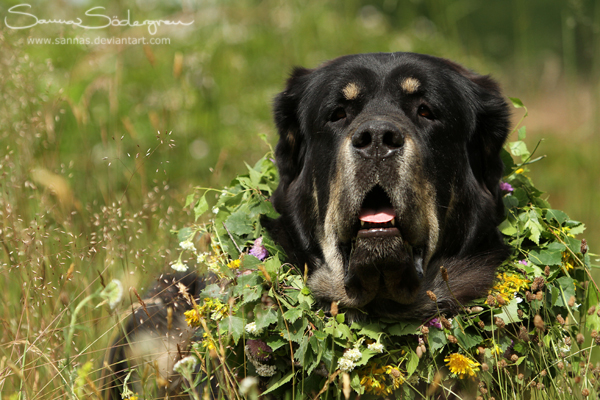 Mr Squishy face. The sweetest face I know :)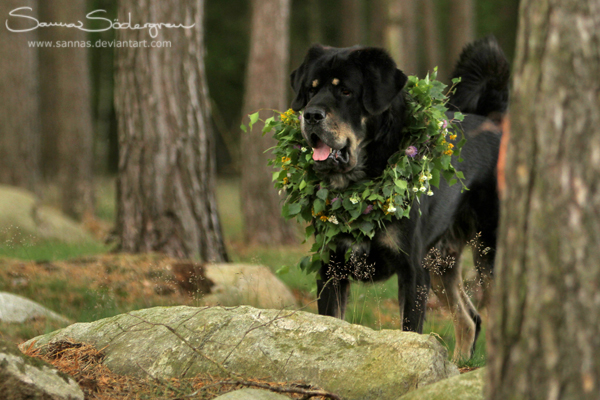 Zodd, totally ready to jump out and "attack" Noblesse, who is on her way...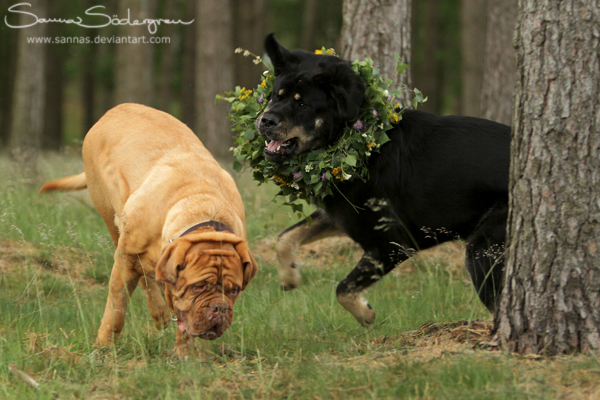 Yep, there she is! Zodd: "MWAHAHAHAHAHA! You are MINE now!"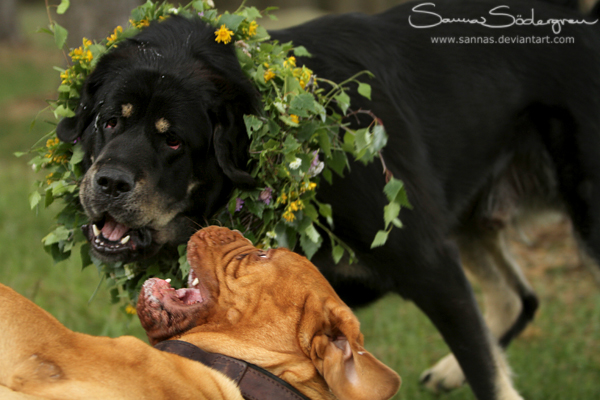 Zodd's "love-mischief-bite me" face!
| | |
| --- | --- |
| | |
| Friends! | |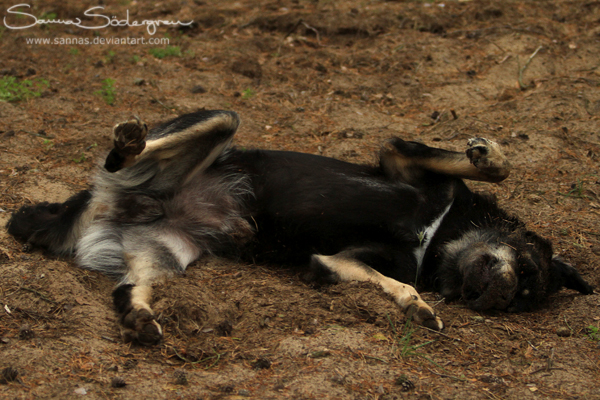 Zodd: "Noblesse? Look at this, look at my moves! Noblesse? Noblesse?! Where are you? Why aren't you looking? It's my best charming moves! NOBLESSE!!!"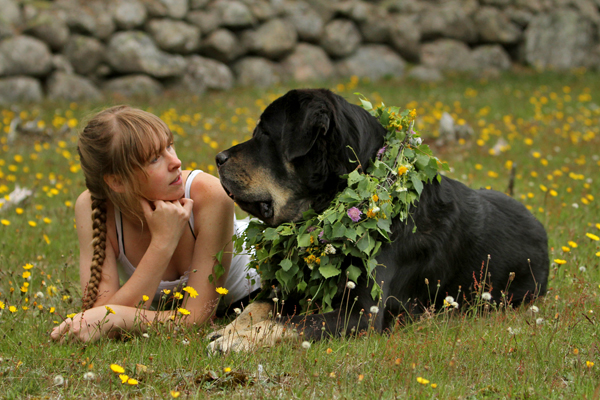 Me and Zodd, sharing midsummer secrets ;)
Thank you Lucas, for this photo!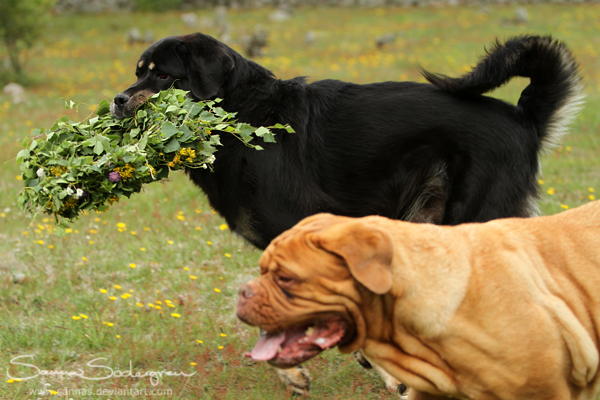 Zodd: "Enough is enough! I am a Tibetan Mastiff, not a silly model who will pose, pose, pose with this flashy wreath! REVOLUTION! Come on Noblesse, let's kill this silly humanmade thingamajig! MWAHAHAHAHA!"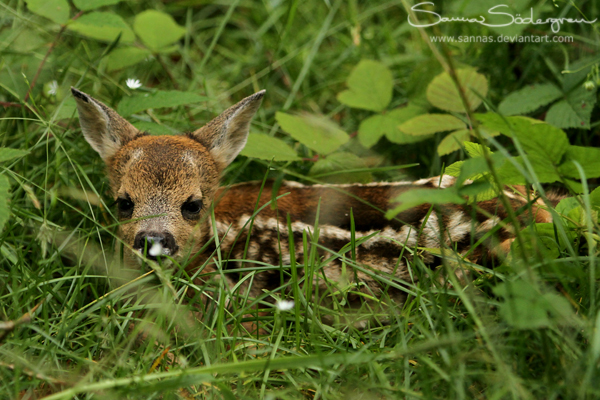 We heard a strange noise in the forest, so we went to check it out and what did we find? A baby roe deer, so tiny and so sweet. The dogs didn't even pick up on its scent and continued doing their thing while I took this photo and Lucas watched the little miracle before it stood up and made its way deeper into the woods.
A very nice moment :)

19/6-2011
Copenhagen Winner!
Zodd, Lucas and I went with Veronica and Bulten to Denmark for the Copenhagen Winner dogshow.
Zodd did well :)
You can read more about it here ---> DOGSHOWS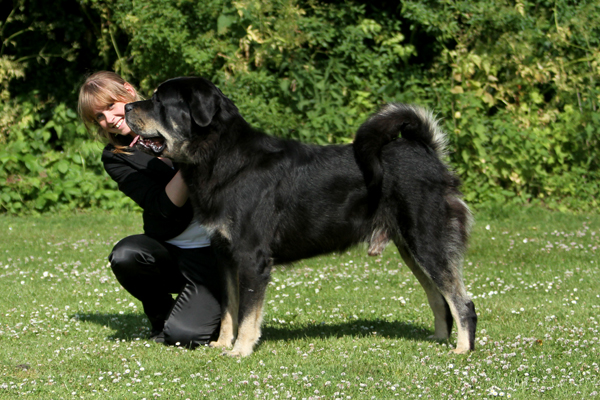 Me and Zodd, dogshow style (and in summercoat).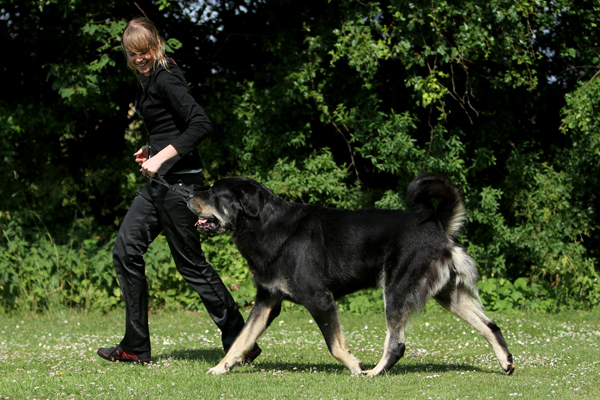 And he's got the moves ;)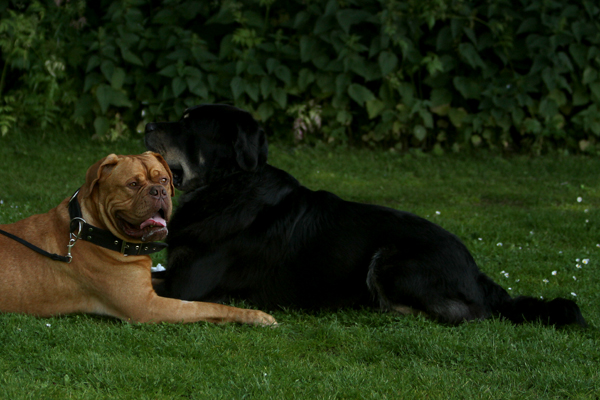 Zodd is chillin' in the shade with his pal Bulten, the Dogue de Bordeaux.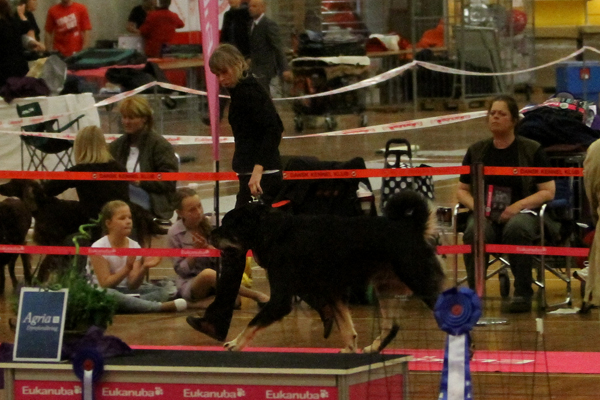 Zodd and I in the group finales. No placement, but it was a blast.
12/6-2011
A perfectly normal morning!
Some photos from one of our morningwalks. Nothing out of the ordinary, even if I think spending days with a TM is always extraordinary ;)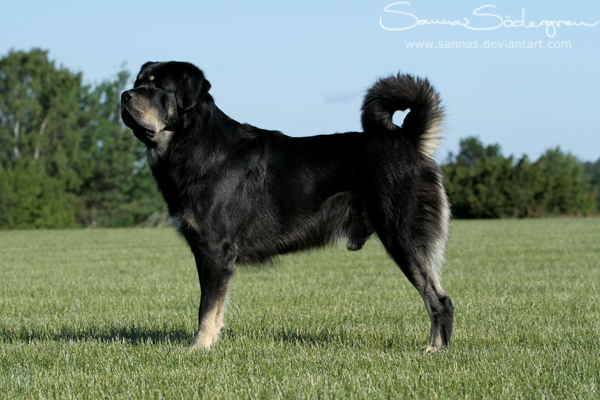 Zodd, undressed and ready for summer!

"Sit, stay!" A calm and collected Zodd.


Recall, tibetan style... Don't try this at home ;)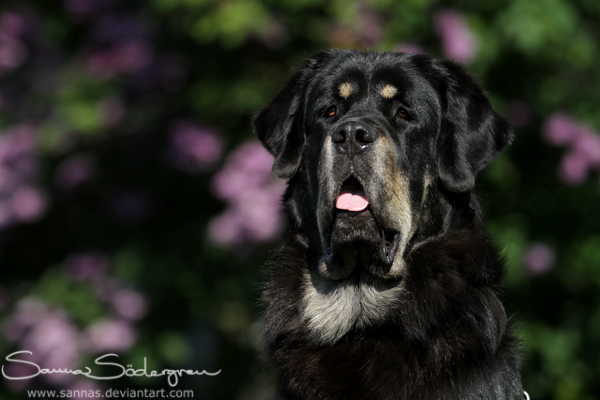 Zodd, in front of a lilac bush.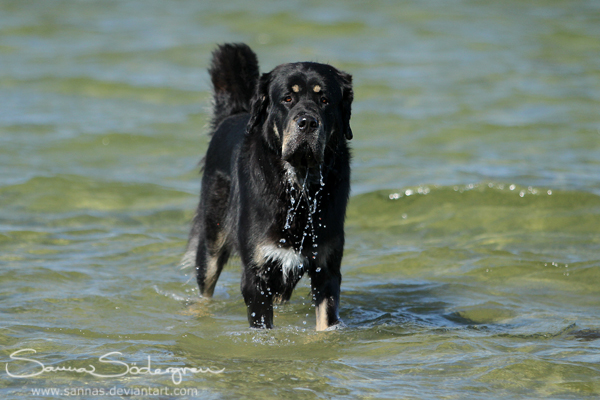 "Drool? Who? Me? I don't drool, like ever... This is water... Ehrm..."
5/6-2011
A visit from Zodd's first love!
The first time they met they were not even six months old. Zodd fell in love and so did Måne. They have never fallen out of love even if it's been a while since their last meeting.
Måne is a Tibetan Mastiff girl who lives in Sweden together with her big brother Cenge (who doesn't approve of Zodd's love for his sister) and her two human tenders Ella and Peter. She's probably one of the best dogs I have ever had the pleasure of meeting and I know my sister will agree with me on that one. Nina and Måne have a special bond and they exchange secret looks and winks every time they meet.
So to put it simple - it's not only Zodd who's in love with Måne - we all are!
As you can understand it was with great pleasure we invited Ella, her daughter and her Golden Retriever Lykke, and of course our beloved Måne to come visit us!
It was a wonderful day!
Zodd made friends with Lykke the Golden and the two boys had so much fun on the beach.
Måne took it a bit easy and after a quick study of Zodd, and how he seemed to dip himself in the water without melting and even enjoy it, Måne tried the same thing even though she's not a big fan of water.
Zodd was already in the middle of his shedding but Måne had yet to start her and it was so so hot out.
I (like the dog groomer I am) had brought some tools and started grooming of the lady herself.
When we started our walk back we left half a TM on the beach, to the great joy of all the birds I'm sure.
So, a conclusion of the day perhaps?
Ella and Måne - we love you!
And Zodd is now also deeply in love with Lykke ;)
//Sanna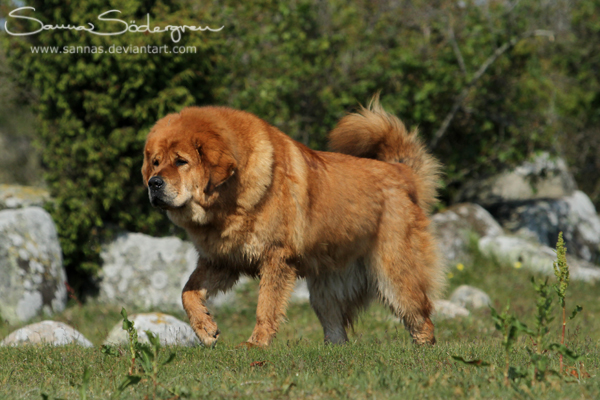 The one and only Dambu Dawa z Kacinské Louky, also known as MÅNE!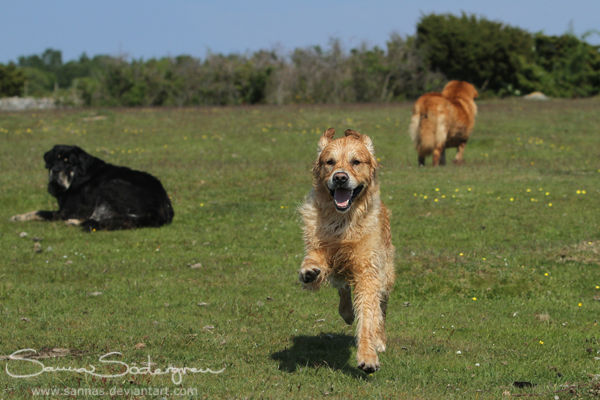 Tibetan Mastiffs and a Golden Retriever. A typical study of the difference in these two breeds.
After a quick study of Zodd, Måne knew exactly how to chill in the water!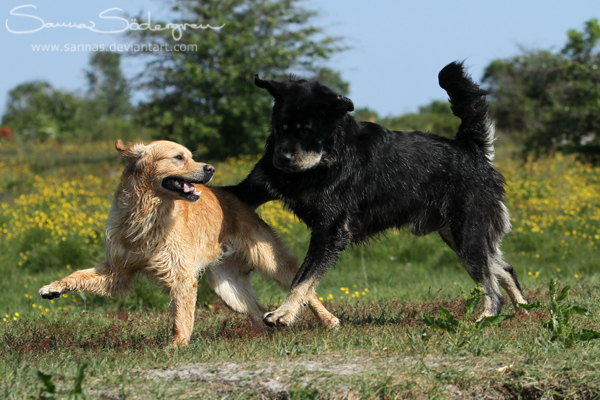 Two young boys playing on the beach!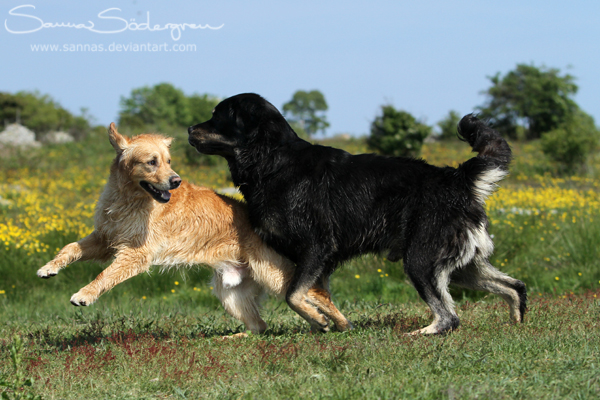 If you don't have the speed you've got to use your muscles! TACKLE!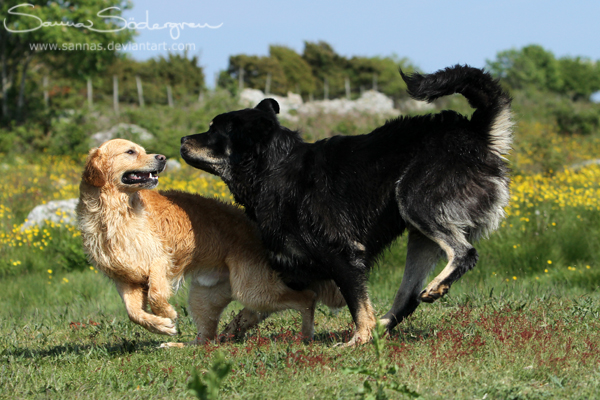 Zodd: "WHERE'S my BRAKE?!?!"
Lykke: "Hey man, I'm right here!"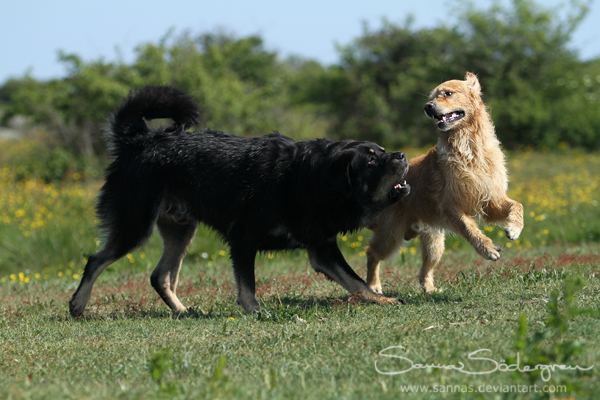 Two young boys in love!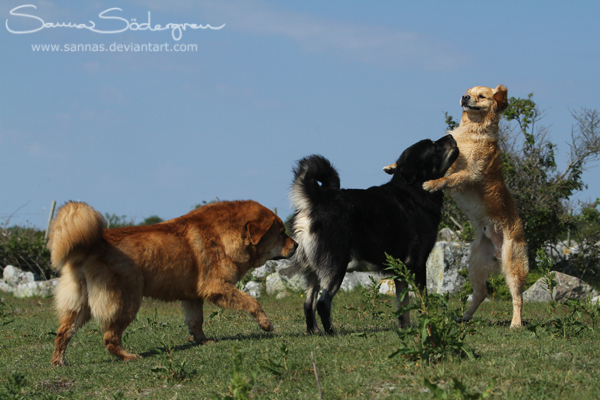 All the dogs in one frame.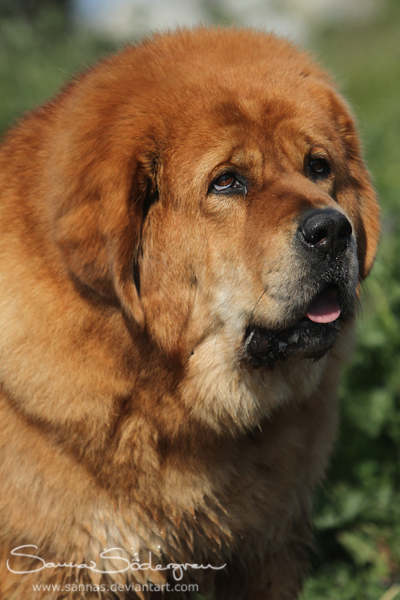 Isn't she gorgeous?