September 2011!
Back again!
Hi everyone! Yes, Zodd was right last month. I am really slow with the updates, and I'm not quite sure why that is, but here's a few photos and stories from september too.
I must say Zodd did a good job with the updates of August. Even if I'm not sure if I agree with everything he wrote it was still nice to get a bit of help with his site :)
It's probable that I will ask him to co-write with me again. That's no guarantee that he'll actually do it, because he is, after all, a Tibetan Mastiff with a mind of his own.

Beachboy!
We've had some really nice days in september. One morning (2011-09-07) Nina, Zodd and I walked down to the beach and enjoyed the windy day. Zodd was so happy that the water was low because he really loves the feeling of wet sand under his paws. He was full of energy and mischief :)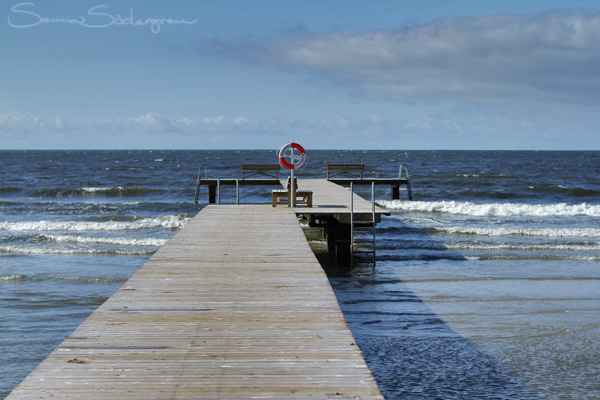 The bridge.
Zodd on the bridge, looking all handsome!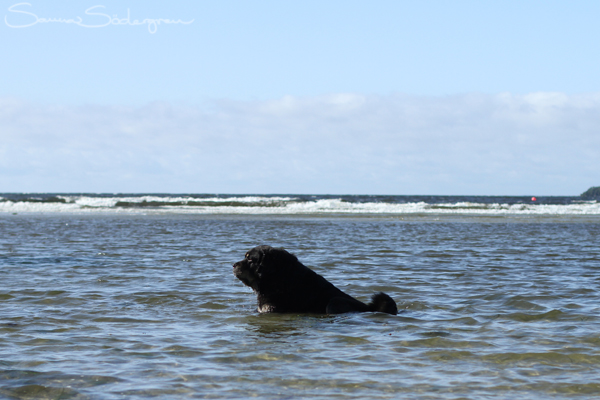 Ok, so he likes to feel more than wet sand under his paws when we visit the beach. He loves the water and the waves as well, as long as he still have the sand under his paws ;)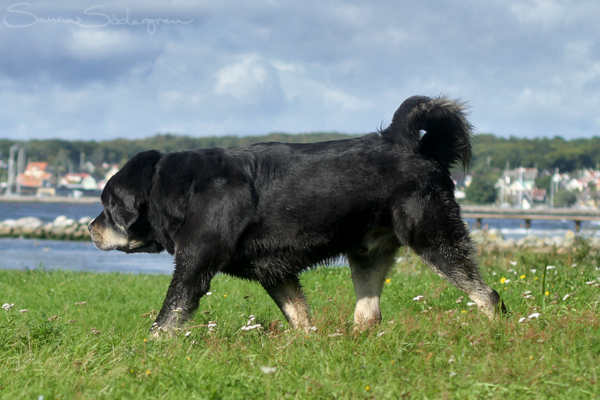 Zodd on the move.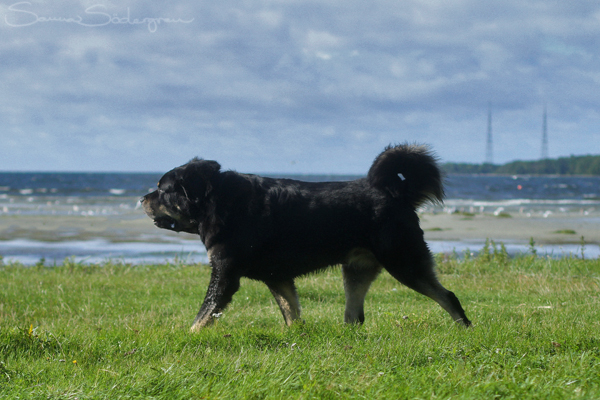 Zodd and the dramatic September skies.
FUN on the beach, together with Nina!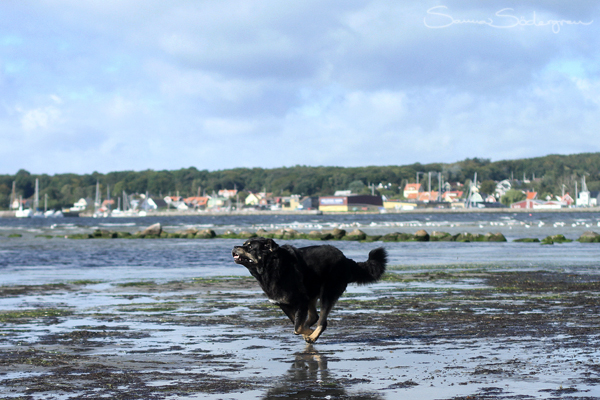 Sometimes he actually moves fast!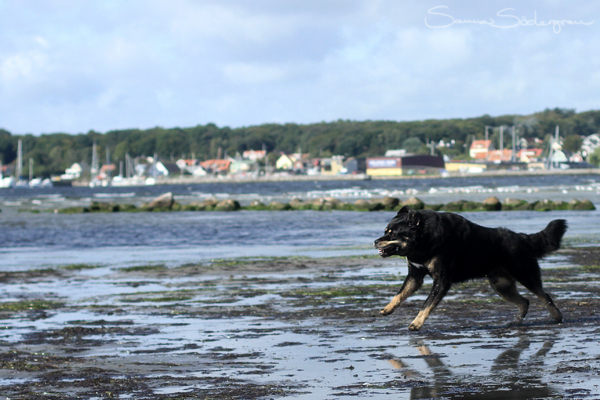 WROOOOOM!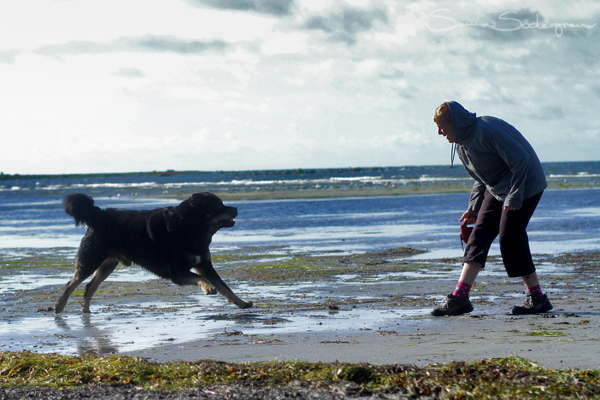 Time to play!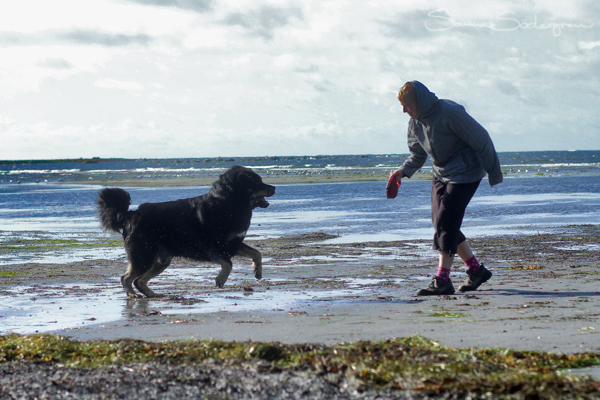 Zodd: "Come on Nina, let's dance!"
Nina: "Let's!"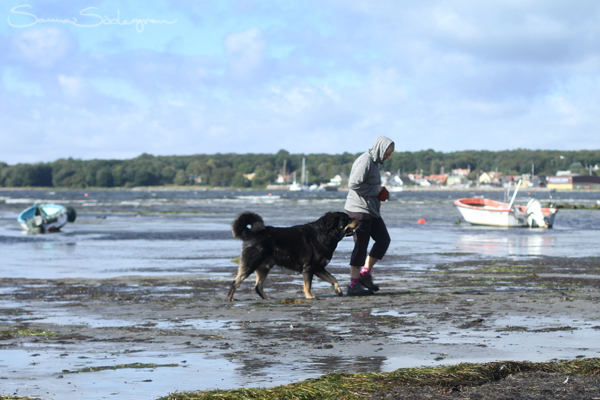 Zodd wanted the leash Nina was holding in her hand.
At moments like those there's an attentive side that comes out. Sure, it doesn't last long, but when you have a Tibetan Mastiff you learn to treasure those moments ;)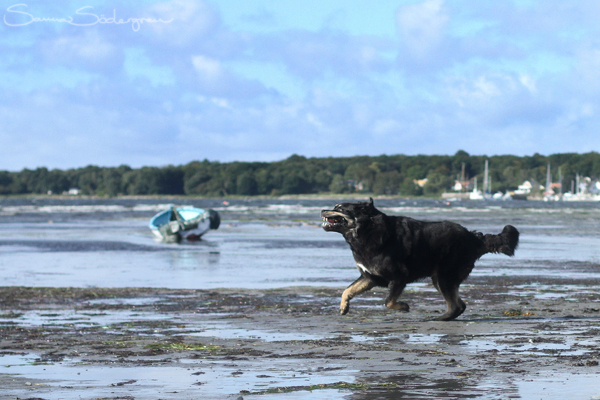 More speed!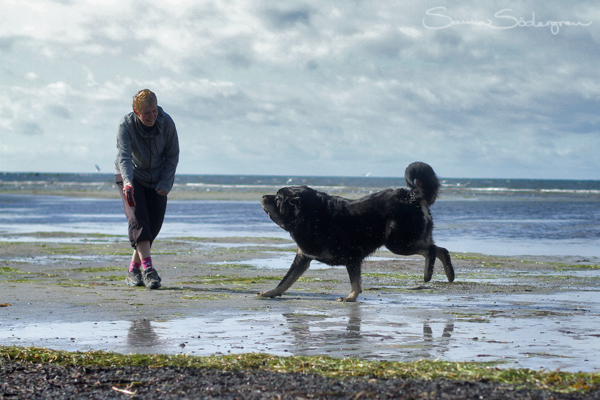 The brake has been PUSHED!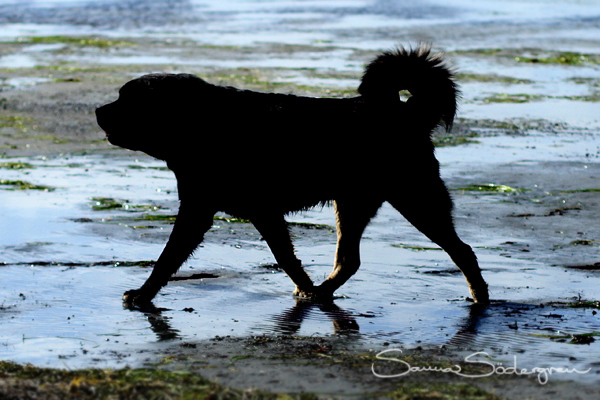 Zodd, on his way home, pleased with the morningwalk!
The mushroom hunt!
On September 17th Zodd, Lucas and I went with Lucas sister Frida, her boyfriend Brice and, of course, their fabulous Dogue de Bordeaux Noblesse to visit Veronica and her two Dogue de Bordeaux boys Manson and Bulten.
We had grand plans of picking huge amounts of mushroom and did we follow through on those plans or what!
We picked both yellowfoot (Cantharellus tubaeformis ) and black chanterelle (Craterellus cornucopioides) and loads of them.
| | |
| --- | --- |
| | |
| The results of our efforts! | Zodd and a tiny friend :) |
I've only picked regular chanterelles before, so it was nice to learn to identify other edible mushrooms. I've later tried the black chanterelle (I made a stew from it) and I must say it's the most delicious mushroom I've ever tasted. It's got so much flavor.
The dogs were so happy to spend several hours in the forest and they played most of the time. Well, the three DdB played while Zodd did a lot of what Zodd always does when we are in the forest (or anywhere else) and stops for a while - he lays down and is more than satisfied as long as he's in a rather high spot so he can keep a lookout.
When we stopped for our picnic he found a huge rock that he climbed and then he told anyone who was within earshot that he was there! His deep bark resounded through the woods.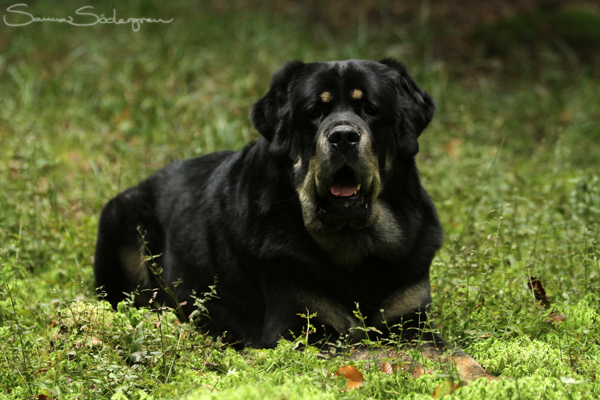 Zodd, patiently waiting for me to be done with the mushrooms.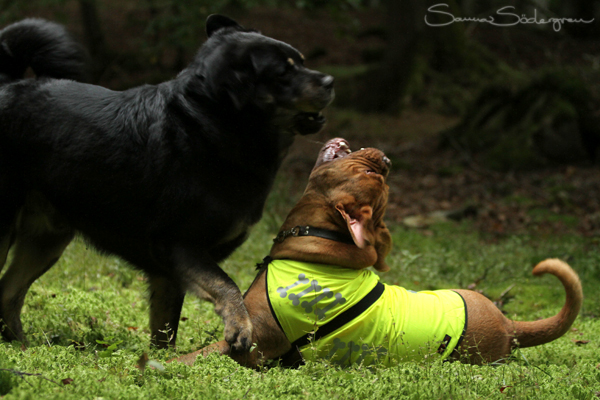 Zodd and Bulten.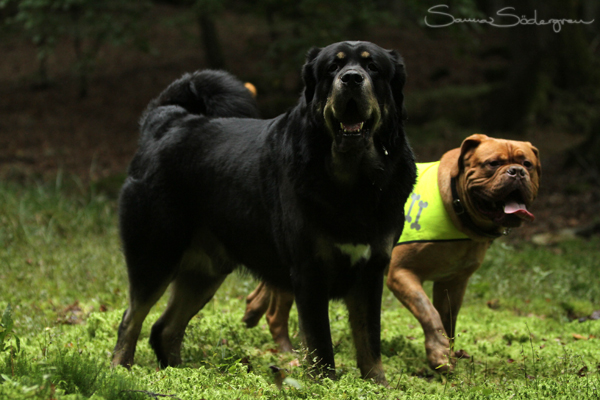 Happy boys :)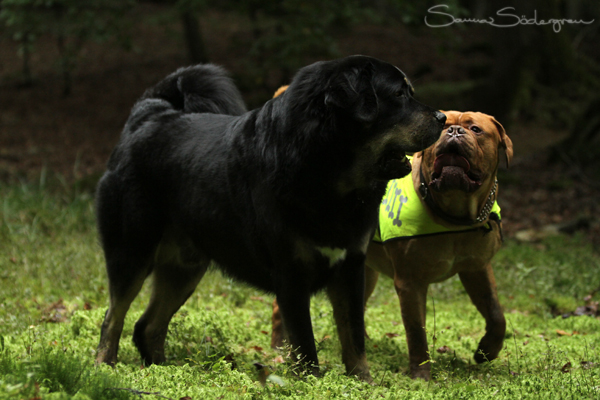 And very playful boys :)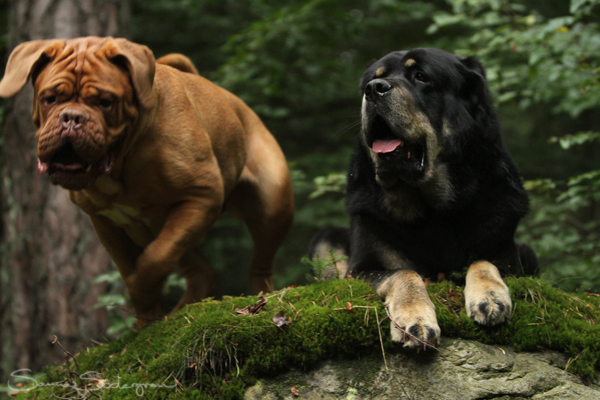 Noblesse didn't want to share Zodd's rock with him. The humans below were having their picnic and she's a big fan of food, so she joined us instead. Zodd is a big fan of rocks, so he stayed put ;)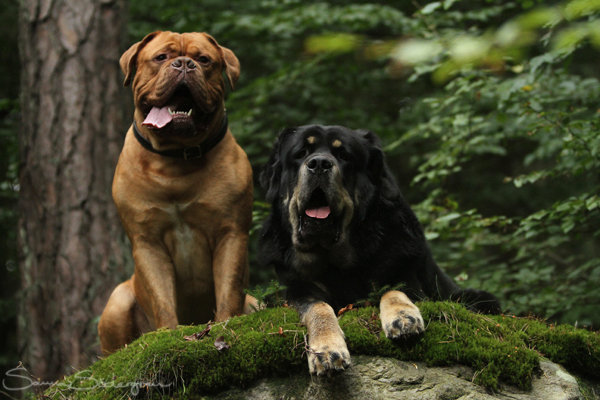 Bulten posed for one or two photos and then he didn't have the patience to sit still anymore. He's got so much energy that it's hard to describe. It must be seen in real life :)
My hero!
I had the pleasure of meeting one of my heroes this month. I'm a big fan of $crooge McDuck (Donald Duck's very wealthy uncle) and Don Rosa, the man who gave this character a whole new depth, came to Sweden and I went to meet him at the bookfair in Gothenburg together with Lucas and two other friends.
Not only did I get my $crooge book signed by him, I also had the pleasure of posing with him in front of the camera. Lucas, thank you so much for this photo! And Mr. Rosa, thank you so much for creating all those wonderful stories and for sharing them with us!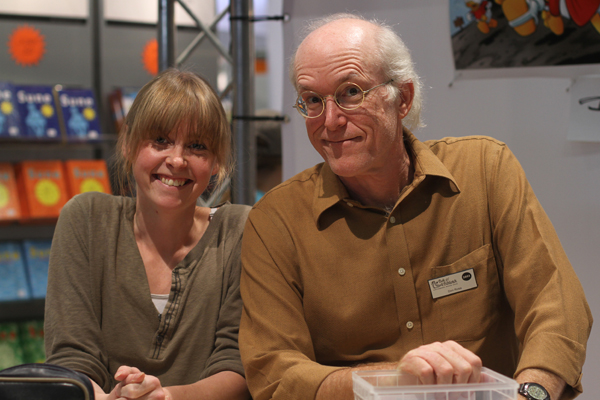 Here I am together with Don Rosa!
Invisible friends!
Well, here's the thing. When we went on our mushroom hunt earlier this month Zodd and Bulten met for the first time in ages and Bulten was just as energetic as always while Zodd was as... well, as Zoddlike as always. And for some reason there was a bit of a misunderstanding between the two boys.
Bulten wanted to play with Zodd in the same way they always have, but Zodd wasn't in the mood to be molested (oh yeah, they've played really rough up until now, and it's suited both of them perfectly) so he said "NO!" with barking and a bit of growling.
This was the second time EVER Bulten was corrected by Zodd and he was really surprised by it, but he backed off and they continued with their games, but not with eachother.
A few minutes later Bulten wanted to play again and went at Zodd with the same energy as always. Zodd said "I said NO, man! Didn't you hear me earlier?!", but this time he must've hurt Bulten's pride in some way because he answered and the two friends had a short but intense fight.
They weren't hurt, but Zodd's trust for Bulten was.
Bulten really tried to make it right and did foolish stunts in front of his buddy, but Zodd simply turned his head the other way and pretended he wasn't there.
Once you step on the toes of a Tibetan Mastiff a simple apology isn't enough it seems...
So, we invited Bulten and Manson to join us on the beach and they came for a visit, but even though Zodd was really excited when I told him who was coming he gave Bulten the same "you're not even here" treatment.
This will probably take a while to mend, but we'll get there.
It's not that Zodd is angry with Bulten, quite the opposite. Bulten is invisible. Even when he bounce into Zodd, trying to get his buddy to play wrestle, Zodd pretends that he was a gust of wind and nothing more.
Poor Bulten has no idea why he's ignored, but I suppose Zodd has some plan with this cold shoulder treatment.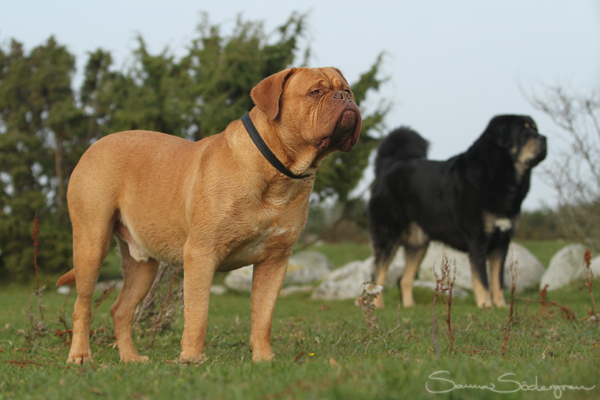 Bulten and Zodd, keeping an eye on the cows two pastures away.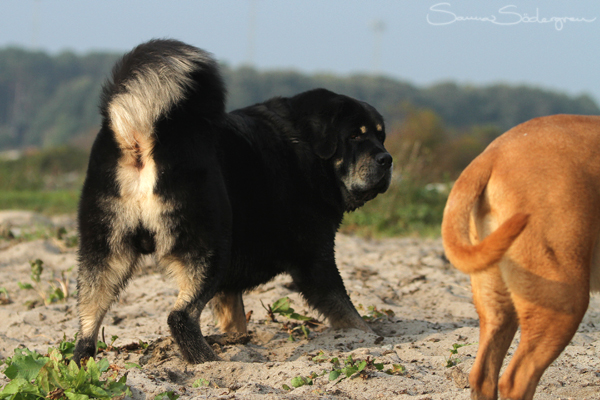 Zodd is inviting Manson to dance.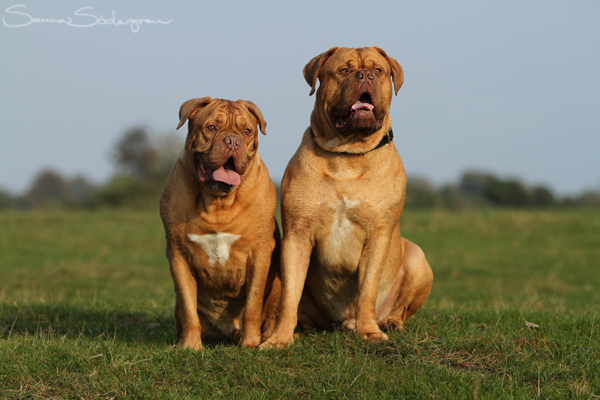 Manson and Bulten.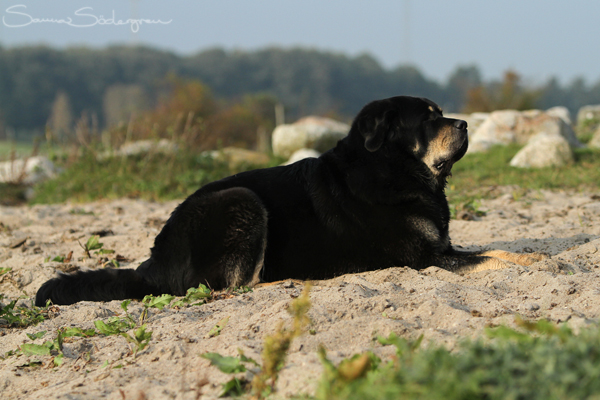 Zodd being busy being Zodd ;)
Norway weekend!
Lucas had some work things that needed to be done in Norway and after asking Nina if she could look after Zodd I joined him for the weekend.
Norway is truly a beautiful country, but oh so expensive. But their nature is superb and I always enjoy to tag along and spend time in the woods there. This time I was lucky because I found a LOT of chanterelles and some nice subjects to photograph! Autumn is really here!