August 2009!
TM overload!
Almost last minute Nina, Zodd and I decided to go to the annual TM gathering arranged by the TMclub of Sweden. It was a loooong drive to get there and a looong drive home (weird thing was that according to the meter we drove 20 kilometers less on our way home...), but it was well worth it! We met old friends and made new ones and had a wonderful time in the company of fellow TM slaves... ehrm, I mean TM owners ;)
Daniel and Maija held the gathering at their place - an idyllic spot in the middle of the forest high up in the region of Småland. The dogs sniffed eachother, mingled and enjoyed the calm and friendly atmosphere. Us people did the same (hehe, well, except the sniffing part, that is). The food was superb and the day was warm and sunny. Zodd had a blast with the TM lady Brummi. He met her last year for the first time, but they recognized eachother and we set them free in a field where they ran, wrestled and enjoyed themself. Zodd found a puddle of mud and showed Brummi just how dirty he could get before his mum noticed what he was up to and then he shook the mud out of his fur and onto Brummi's mum Judit. The two dogs ran away laughing and we couldn't help but laugh too ;D
We took part in the TM clubmatch and Zodd was placed as second best male. There were 19 TMs at the show (or was it 18?). This was after we went down to the lake with a bunch of friends, washed away all the mud and then returned to the rest of the party.
A perfect day in every sense of the word! My favorite part of it all was when Nina, Judit and I took Zodd and Brummi with us down to the lake, after the show, and went for a swim. Brummi watched the four of us from the cliffs. She wanted to get in, but didn't want to get her feet wet - such a dilemma! Zodd, who's never bothered to learn about the behaviour of a typical TM went with us into the water. He then fell alseep on the cliffs, exhausted!
Zodd had a date with his ladyfriend Noblesse as well. He's a sucker for this Dogue de Bordeaux =) They had a BLAST!
Zodd entered only one dogshow this month, but he did so well! He got his second CAC and was BOB. Now he only needs one more CAC and then he can call himself Champion of Sweden. Keep fingers and toes crossed since we are going to one more dogshow in a couple of weeks! You can find more info here ---> Dogshows! Zodd's friend Noblesse, the Dogue de Bordeaux, also did well at this show - she was BOB with CACIB! BIG congratulations, Blessan =)
This month I finally got my hands on something I've wanted for ages! A Kekor for my boy! I've searched high and low for one, but without any luck, so I finally decided to take matters into my own hands and I made one for him. You can see the results at page 5! This type of collar was, and still is, used in Tibet as protection from wildlife for the dogs. It's also said that the quality of a Kekor shows the standing of the owners of the dog wearing it. Dyed yakhair is said to be a sign of wealth. In other words I'm a very very poor person since Zodd's Kekor is made out of acrylic yarn ;D
Zodd also snatched the cover of the calendar published by TMinfo + a spot inside the calendar! I am so happy about this. You can read more about it here ---> Almost famous
//Sanna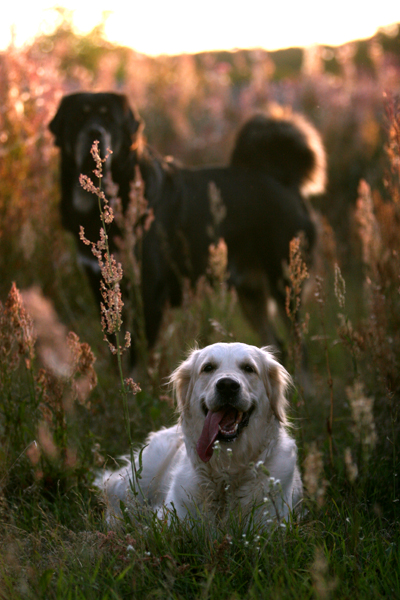 Zodd and his friend Stella, the Golden Retriever.